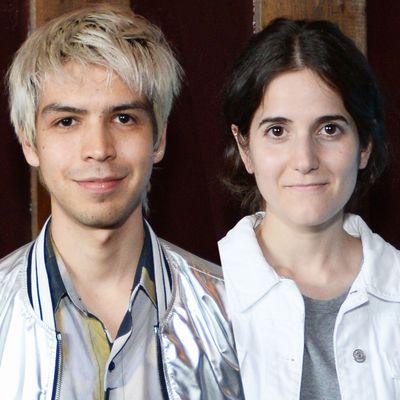 Julio Torres and Ana Fabrega.
Photo: Getty Images
HBO just ordered a new comedy series "set in a strange and dreamy version of present-day Mexico City," and it's got the backing of SNL's Lorne Michaels and Fred Armisen. According to The Hollywood Reporter, the network has given a series order to a half-hour Spanish-language series called Los Espookys. Julio Torres (Saturday Night Live) and Ana Fabrega (The Chris Gethard Show) co-wrote the series alongside Armisen and also star in the show, which centers on "a group of friends turning their love for horror into a peculiar business." Andrew Singer (30 Rock, Portlandia) will serve as an executive producer alongside Michaels and Armisen, and Mexican director Fernando Frías directed the pilot episode, which was ordered by HBO late last year.
Fabrega and Torres will be joined by Bernardo Velasco as Renaldo, "the leader of Los Espookys who is noble, kind, serene and obsessed with gore," as well as Cassandra Ciangherotti as Ursula, "a calm and collected dental assistant who provides teeth for the group's monsters. She loves horror and her sister Tati but above all, teeth." Fabrega will star as Tati, "Los Espookys' test dummy" who is "constantly juggling several odd jobs, such as breaking in other people's shoes and testing child safety locks." Torres, meanwhile, will play Andres, "Renaldo's best friend who is a dark and mysterious heir to a chocolate empire. His only true nemesis is his gorgeous boyfriend." Armisen will also appear on the show as Renaldo's uncle Tico, who lives in L.A. and is described as "a prodigious valet driver living his dream of parking cars."
In addition to Los Espookys, Armisen is producing and starring in a six-episode comedy series with Tim Heidecker, John C. Reilly, and Jonathan Krisel called Moonbase 8 about "three subpar astronauts living in NASA's Moon Base Simulator in the desert with high hopes of being the next chosen to travel through to the moon." The project, which has been financed by A24, will be on the hunt for a network home after the first season is complete.