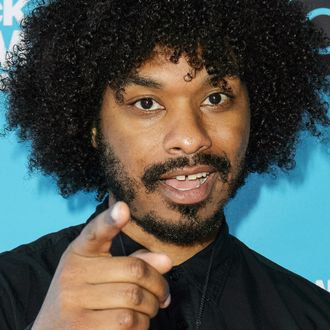 Terence Nance.
Photo: Jason Koerner/Getty Images
Between Netflix, HBO and the streaming platforms, soon there will be so much new late-night TV, you'll never sleep again. Which seems like it would put you in the perfect receptive state to really take in HBO's upcoming late-night comedy show Random Acts of Flyness.
Terence Nance, a filmmaker and artist who earned a Guggenheim Fellowship in 2014, is the mastermind behind the new show, which, thank God, is eschewing your traditional late-night format for a little something different, specifically "interconnected vignettes" about American culture that form "a unique mix of vérité documentary, musical performances, surrealist melodrama and humorous animation." Which makes sense, as it'd be pretty hard to explore "ancestral trauma, history, death, the singularity and romance" if you knew you had to interview Amy Adams right after.
As the show's new teaser suggests, Nance wants you to be as excited about his Flyness as you were about Juneteenth. No, more excited. The midnight comedy's six-episode season premieres on Friday, August 3.