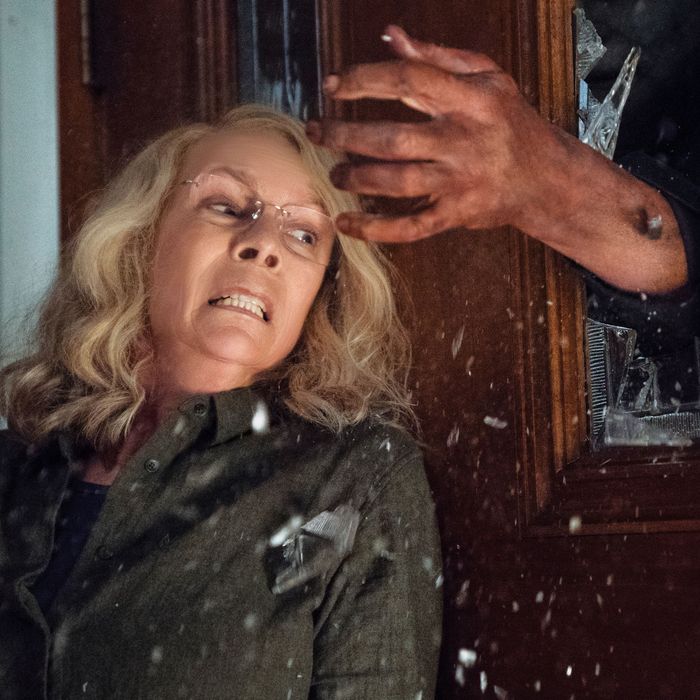 Photo: Ryan Green/Universal Studios.
If you like horror movies even a little bit, then you know we've got Suspiria and The Nun and Halloween coming up in the final stretch of 2018. But those big-name titles are just a few entries on a crowded slate of horror films rolling out through the rest of the year. The Slender Man will finally make his big-screen debut. Nicolas Cage is going to bring a chainsaw fight to life in Mandy. All manner of Nazis — including ones in demon-puppet form — are coming to rain down hell on anyone who crosses their path, and thanks to Anna and the Apocalypse there will even be a singing, dancing zombie-slaying Christmas musical this holiday season. And you don't even have to write them all down, because Vulture has your guide to the rest of 2018's scary movies conveniently assembled below. Happy hauntings, everyone.
August 5
Forest of Lost Souls
This Portuguese film from writer and director José Pedro Lopes is about a man and a woman who meet in the Forest of Lost Souls, a place where people often go to kill themselves in solitude. But once they find each other they decide to delay their deaths so they can explore and talk together. One of them, however, is a dangerous deceiver, meaning this contemplative walk through the woods is going to take a very intense turn.
August 7
Black Wake
The enemy in Black Wake is described as "an ancient force from the sea hell-bent on bringing madness and death to all of humanity." Madness and death! After a series of deaths along the Atlantic Coast, a team of specialists and a driven detective must confront the fact that they're up against some ancient evil from the deep so they can try and stop it — as one does.
It Lives Inside
A man with a sleepwalking problem reads from a book that foretells of his impending battle with demonic possession — and once the spirit attaches to him it's going to go after his family, too. Put that book on the "Never Ever Open This" shelf next to The Babadook.
August 10
Along Came the Devil
The Devil is always looking for an open door to walk through, and in this movie, that door is the soul of a girl named Sweeney. After she accidentally invites a demonic force into her life, it's up to her loved ones to wage a war for her soul.
The Grand Son
A pair of entitled Hollywood legacy children live with their former movie star grandmother, who's started to get tired of them being such spoiled brats. With her silver screen days behind her, grandma now hosts a home shopping show, but when the ratings start to slip, her scheming grandkids work up a plot to rescue to the show and keep their gravy train rolling along. It co-stars Rhys Wakefield, who you already loved to hate thanks to his villainous turn in The Purge.
Elizabeth Harvest
Just as a concept, the name "Elizabeth Harvest" sounds pretty unsettling, and the description of this movie is, too. A woman named Elizabeth (played by Abbey Lee) moves into the lavish home of her new husband, Henry (played by Ciaran Hinds) and is told she has free reign over the place, with the exception of one locked room. Considering Hinds is several decades older than Lee, this is already a creepy arrangement, but when Henry goes out of town on business, Elizabeth decides to do some snooping and she of course goes into the forbidden room. It's a modern techno spin on the myth of Bluebeard, with Carla Gugino!
Slender Man
This urban-legend horror film has been in the works for a long time now, and after a handful of release-date changes, it's finally hitting theaters in August. The Slender Man is an uncannily tall and thin figure with a featureless face, and once you see him, he's burned into your brain — until he either drives you mad or flat out abducts you. In the movie, a group of friends summon the internet demon to get someone back they suspect he took. Someone needs to tell these girls that horrible things online are undefeated.

Summer of '84
The lovable weirdos behind Turbo Kid, the directing trio known as Roadkill Superstar (Francois Simard, Anouk Whissell, and Yoann-Karl Whissell), are delivering their follow-up with the slasher-era tribute Summer of '84. When a group of teens start suspecting a well-liked local police officer is responsible for a string of killings in the community, they put themselves right in the middle of harm's way to try and solve the mystery. This one takes an extra-dark twist you won't see coming.
August 17
Puppet Master: The Littlest Reich
The last time we saw tiny vengeful Nazis, they were Brazis (bratwurst Nazis), and they were terrorizing Kevin Smith and Johnny Depp's daughters in Yoga Hosers. Now, a man returning to his childhood home finds a creepy puppet in his deceased brother's old bedroom, and after taking it to a local convention to try and flip it for a few dollars, an evil force animates dozens of toys in proximity and turns them into killing machines. It's got genre icons Barbara Crampton and Udo Kier, and the script is by none other than Bone Tomahawk and Brawl in Cell Block 99 director S. Craig Zahler.

Ahockalypse
A hockey team called The Prairie Kings are newly crowned champions, but if they want to survive long enough to enjoy it, they're going to have to fight their way back to their home arena and face off with a bunch of zombies. At least Barry Melrose will be there to help them!
Good Manners
A São Paulo woman named Clara is hired to nanny the soon-to-be-born baby of Ana, a wealthy woman from a rich plantation family, and in the course of sorting out race and class differences they come to form a strong bond. Oh and also, this is a queer werewolf story — surprise!
August 24
What Keeps You Alive
Writer and director Colin Minihan reteams with actress Brittany Allen for this efficient, effective tale of love, murder, and betrayal at a remote cabin in the woods. When Jules (Allen) and Jackie (Hannah Emily Anderson) go away for an anniversary retreat, Jules realizes quickly that the woman she married has been selling her a whole lot of lies, and it's going to take a miracle — and a whole lot of fight — if she wants to make it home alive.

The Little Stranger
You know what's scary? Old-timey houses in disrepair. You know what's even more scary? Ruth Wilson living in one of those houses! Little Stranger stars Domhnall Gleeson as country doctor called to Hundreds Hall, where his mother actually used to work years before. The house has been in the Ayers family for generations, but now it's falling apart around the final three residents — a mother and her two children — and the youngest member of the family needs the doctor's help. But what secrets about his own past will he find inside? And how haunting will Ruth Wilson be?

August 31
Boarding School
Boarding School opens with a young boy experiencing horrible nightmares and then, before too long, getting caught by his stepdad while he's dabbling in cross-dressing. The boy is then shipped off to a very unsettling boutique boarding school with just a handful of other students, and all of them seem to be outside the boring definition of "normal" in some way. Things quickly turn abusive and terrifying, and the students need to figure out where exactly their parents sent them before it's too late.

September 4
Hostile
Hostile puts a Resident Evil aesthetic on the horror survival story. In a world laid to waste by pandemic, a woman named Juliette is on her way back to her survivalist base camp when she gets into a car accident and suffers a broken leg. She must then brave the desert wasteland and successfully evade a creepy creature that's stalking her if she wants to live.

Trench 11
Oddly enough, Nazi zombie–contagion movies are kind of a subgenre, and Trench 11 will join that bold tradition. Set during WWII, a group of Allied soldiers must go 100 feet underground to eliminate a secret German base, but they don't know that a bio weapon is ripping through the Nazi soldiers below and turning them into deranged, murderous monsters. Nazis: Always capable of being worse than you previously thought.
September 7
The Nun
The Conjuring universe is strong! Annabelle 3 is currently in the works, and The Nun will arrive this September to take you all the way back to the origin of the demon Valak — popularly known as the scary-ass Nun that was heavily featured in Conjuring 2. Chronologically, this will be the earliest movie in the franchise, and it's set in a Romanian church where a priest (Demián Bichir) and a young novitiate (Taissa Farmiga) are sent to investigate the death of a young nun. They're going to find a whole lot of secrets and a whole lot of terror.
September 14
Don't Leave Home
This Irish film centers on an American artist who becomes fixated on the Irish urban legend of a missing child named Siobhan Callahan, who disappeared days after being painted by a priest named Father Alistair Burke. Burke left the clergy and went into self-exile after the event, but he makes contact with the young artist and offers to help her with her work. She's about to learn never to get too close to the scary guy at the center of a storied kidnapping!

Mandy
This is some heavy-metal horror, starring Nicolas Cage and Andrea Riseborough as a happy couple living in a remote location, who have their peace upended when a crazy cult kidnaps Riseborough's character, Mandy, and Cage's Red has to get her back. There's blood, thrashing music, a chainsaw fight, and so, so much more.
September 15
The Basement
If you haven't been keeping tabs on the recent career of Mischa Barton, she's been making quite a lot of horror movies! This concerns a serial killer called the Gemini, one dude with about a dozen distinct personalities in his head (very Split). But when the Gemini takes a famous musician named Craig to his murder basement, Craig and his wife (Barton) "prove every bit the killer's equal in the art of psychological warfare." Never underestimate the intellectual terror skills of Mischa Barton, Gemini.

September 28
Hell Fest
This is why haunted houses are a terrible idea: When a group of friends head to a traveling horror carnival, a masked serial killer decides to treat the place like his very own fun house of death. Really, though, if you choose to go to a place called Hell Fest you assume all liability for what happens after.

October 5
Welcome to Mercy
In this occult thriller, a single mother who starts manifesting stages of the stigmata is sent to a convent "where nothing is what it seems," and she must band together with a friend to confront her inner demons (literally) to keep her from turning into the Antichrist. The Devil, as always, is busy.

October 12
Apostle
From writer and director Gareth Evans comes Apostle, a story set in 1905 about a man (Dan Stevens) who infiltrates a religious cult in order to rescue his sister. But as he gets deeper in with the group, its charismatic leader (Michael Sheen) starts to suspect a traitor in their midst and becomes obsessed with uncovering the scammer. And because this is a cult operating out of some island, there are of course dark and evil secrets to uncover. It's occult horror from the director of The Raid, which could be pretty wild.

Errementari
In this Spanish film, a man named Alfredo goes in search of a cache of missing gold and finds himself at the home of an imposing blacksmith who is rumored to have made pacts with the devil. He's also keeping a boy prisoner in a cage on his property, and a young girl offers to free him before understanding the true nature of his identity. Meanwhile, a horde of villagers are assembling at the blacksmith's gate, demanding the missing gold, and the whole thing will lead to a showdown at the gates of Hell.
I Still See You
Here's a twist on various genres: A decade after an "event" that resulted in a lot of people dying, the living can still see echoes of those that were lost — vanishing manifestations called Remnants. Bella Thorne has the added displeasure of seeing a "Rem" that might be a murderer out to kill her, and she has to team up with a high-school classmate to try and stop him, while they both try to not die.
October 19
Halloween
In case you hadn't heard what, exactly, the return of Halloween entails: David Gordon Green directs this franchise revival that he wrote with Danny McBride, and it serves as a direct sequel to John Carpenter's original movie. It's been 40 years since the events of the first film, and even though Michael Myers has been in jail since his 1979 killing spree, his adversary, Laurie Strode, has grown into a paranoid survivalist living for decades with untreated trauma. She's now the Sarah Connor of horror heroines, and when Michael shows up back in Haddonfield after being locked away for so many years, she will be ready for this Judgment Day. Jamie Lee Curtis returns to reprise the role of Strode, and Carpenter provides the score.
November 2
Suspiria
Luca Guadagnino brings you this adaptation of Dario Argento's horror classic. This time, Dakota Johnson stars as Susie Bannion, the new girl at a renowned dance company presided over by Tilda Swinton's Madame Blanc. There's going to be blood, violence, encounters with the supernatural, fabulous overcoats, and a score provided by Radiohead's Thom Yorke. Prepare for the canon to be shook!
November 9
Overlord
What? You thought we were done with terrifying super-Nazis? This action-horror genre bender comes from producer J.J. Abrams, and it follows a group of American soldiers who discover a Nazi compound where genetic experiments are being carried out to create enhanced soldiers. But of course, since these are Nazis, enhanced means gnarly murderous pseudo-human creatures that will strip the flesh off your body. There's never a wrong time of year to watch Nazi mutants get mowed down by a flamethrower.
November 15
Conundrum: Secrets Among Friends
A reunion of friends at a Hamptons beach house takes a dark turn when the secrets start pouring out. We're guessing this gets way more serious than a hostile round of flip cup.
November 16
The Clovehitch Killer
In this iteration "he always seemed like such a nice man," a teenage boy starts to suspect that his wholesome, all-American dad is actually the serial killer terrorizing their small town. For our purposes as viewers, let's hope he is.

November 30
Anna and the Apocalypse
It's Christmas! It's zombies! It's Christmas zombies! Have you ever heard a better description of a holiday movie than this: "Can high school students sing and dance their way to safety during a zombie cataclysm in small-town Scotland at Christmas time?" No, you really haven't, and what's more, as Variety says, "Bouncy pop tunes and power ballads neatly express the dreams and insecurities of Anna and her friends." Put an X on your advent calendar for this musical zombie survival from director John McPhail and writers Ryan McHenry and Alan McDonald, who also penned the songs.
Untitled James Gunn–Produced Horror Film
This movie has stayed pretty mysterious since it was announced earlier this year. All we know is that it stars Elizabeth Banks (who was in Gunn's first feature, Slither), was written by Brian and Mark Gunn, produced by James Gunn and The H Company, and was directed by David Yarovesky. And it's coming out at the end of November.
December 7
Piercing
Inspired by the novel of the same name by Ryū Murakami, Piercing is writer and director Nicolas Pesce's follow-up to The Eyes of My Mother. A family man, played by Christopher Abbott, tells his wife he's leaving town for a business trip, when in reality he's plotting to hire and kill a prostitute so he can exorcise the urge to kill his newborn child. That call girl, however (played by Mia Wasikowska), won't be an easy mark, and together they're going to have one seriously messed-up night.
Release Date TBD
Cam
Cam broke out at the recent Fantasia International Film Festival, and it draws inspiration from the real life of screenwriter Isa Mazzei, who herself was a cam girl. The star of our story — for a while at least — is Lola, a woman determined to rise up the ranks of the livestreaming collective she belongs to. Lola (real name Alice) has a dedicated viewer base and is finding fast success, but her life starts to deteriorate when an exact double of her hijacks her account and starts broadcasting as Lola. Locked out of her life and her livelihood, and keeping the secret of her profession from those close to her, Alice must take increasingly extreme measures to literally get her life back. Madeline Brewer of Handmaid's Tale gives a beast of a performance as Lola/Alice, and Love Witch fans will delight in seeing Samantha Robinson step in briefly to play a cam-bitch supreme.
Hold The Dark
It was originally speculated that Hold The Dark would debut at the Cannes Film Festival, but when programming director Thierry Frémaux announced that movies without theatrical releases would be barred from the competition portion of the event, Netflix pulled out of Cannes entirely in protest. That means its grand premiere will take place right in your living rooms! Director Jeremy Saulnier's highly anticipated follow-up to Green Room pairs him back with screenwriter Macon Blair, who adapted the script from the book of the same name by William Giraldi. It centers on a small Alaskan town where a string of child disappearances has been attributed to wolves roaming the landscape. When a wildlife expert is brought in to investigate, he gets caught between the grieving mother and the unstable father. It stars Jeffrey Wright, Riley Keough, and Alexander Skarsgård.
The House That Jack Built
Controversy magnet Lars von Trier wrote and directed this pain train, which follows a serial killer named Jack over the course of 12 years, and focuses on a handful of his most formative kills. If you're more of a "read the Wikipedia page" kind of horror fan, let Vulture's Kyle Buchanan tell you about how violent it is here.
Ride
It was only a matter of time before we started getting rideshare thrillers. Ride stars Bella Thorne as a Los Angeles girl who ends up in the car with a sociopathic fellow passenger during a group trip. No Uber Pool is worth this, regardless of how cheap it is.
Tatterdemalion
If you think the title of this movie sounds like the name of some fantastical creature, you'd be right. When a woman returns home in search of her brother, she first finds a boy in the woods behind her childhood home. And in the course of trying to discern his identity, she learns about myth of an evil spirit, called the Tatterdemalion, that takes the form of a child.

Triggered
This horror-comedy from writer, director, and producer Chris Moore, revolves around Calle Bishop, a teen who hates her hometown and feels like she doesn't get the attention she deserves. There's also a serial killer on the loose, which Calle and a friend try to capitalize on by staging her attempted murder. Their shrewd plan backfires when the killer decides to turn them into the victims they're falsely claiming to be, making them liars and targets at the same time. What a pickle!