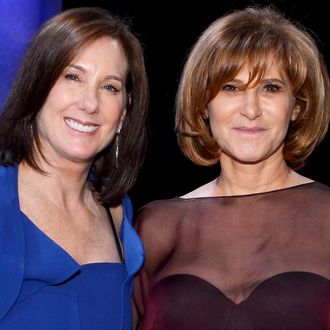 Kathleen Kennedy, left, and Amy Pascal.
Photo: Mark Davis/Getty Images
Let the Summer of Scam continue: A mysterious woman has been impersonating top-level female executives in Hollywood, including producer Amy Pascal and Luscafilm president Kathleen Kennedy. An investigation from The Hollywood Reporter exposes the long-running grift in which a woman has been impersonating powerful entertainment execs — Kennedy and Pascal, along with billionaire producer and philanthropist Gigi Pritzker, former Paramount head Sherry Lansing, 20th Century Fox CEO Stacey Snider, and Homeland producer Lesli Linka Glatter. She had reportedly manipulated hairstylists, stuntmen, military advisers, photographers, and cinematographers into traveling to Indonesia for work on a secret project. Once they arrived, they were asked to cough up a few thousand dollars, told they'd be reimbursed, and then she ghosted. The woman is thought to have collected hundreds of thousands of dollars from the con.
One particularly wild part of the scam: While interviewing several military advisers for a potential project, according to a THR source who says he rebuffed her advances, the woman has talked military operators into Skype sex. Victims have contacted authorities about the scam, but because the money they gave up was in small amounts (usually less than $3,000) there is little that can be done. Some of the executives have retained high-end corporate investigations firm K2 Intelligence but there are few leads, although, according to THR, "K2 investigators believe [the impersonator] might be Asian. People who have spoken with her say they can detect very slight markers in her diction that point to Asian nationality."