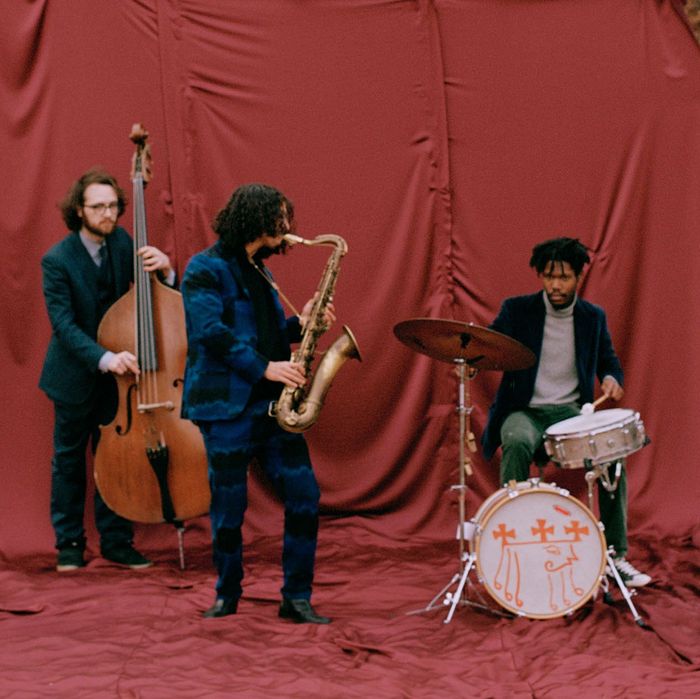 Photo: Rafik Greiss/Courtesy of Onyx Collective
The Lower East Side was growing dark on a recent Wednesday evening on Canal Street. In a steamy fifth-floor walk-up, tenor saxophonist Isaiah Barr and drummer Austin Williamson were improvising in a roiling, minor-key flux as about 50 people — most in their 20s, some much older; no average ethnicity or background — stood comfortably at attention, moving gently with the sound. The floating pilot light of a cigarette butt occasionally throbbed on in some other part of the room; a haze of weed, tobacco, and bodies thickened the air.
If you were there, you probably already knew this was the album-release party for the Onyx Collective's newest album, Lower East Suite Part Three. There had been no public invitation, just a digital flyer passed around among friends, featuring the record's Julian Schnabel–designed cover art. The album had been recorded last year in this room, informally known as the Magic Gallery. It's the final installment in a three-disc series that works as a kind of abstract sonic collage of the Lower East Side. A few blocks away is Onyx's home base, a second-story Chinatown rooftop with a small hut built onto it. The collective calls it "the Shed."
Since 2014, the Onyx Collective has been making homespun free jazz and eclectic funk, always with roots set firmly in this neighborhood. The group also delves into film, apparel, and visual art. And along the way it's accrued a loose community of musicians, painters, skaters, filmmakers, fashion designers, low-key scenesters, high-impact influencers, and everyday kids. You'll go to an Onyx show for the music and the vibe, and may end up in a conversation with André 3000 or the Louis Vuitton designer Virgil Abloh. Or a graffiti writer no one knows yet.
There's a reason Onyx is one of the most heavily covered cult phenoms in New York today: Something about the band catches both the imagination and the nostalgia of a young populace starved for togetherness and lower-case resistance in a real estate–addled city.
But its charms haven't really worked yet on the jazz intelligentsia. Onyx has ardently cut its own trail, representing an argument against the deeply limiting pathways to standard jazz success. It challenges the established hierarchies of the music's mainstream, and even those of the avant-garde. More and more, both straight-ahead and free-jazz musicians tend to sprout from the academy, where students of means spend an inordinate amount of energy dissecting recordings and analyzing techniques; it's crucial work, but taken alone this amounts to an interrogation of what's already been set and done. In order to create improvised music that approaches the level of what was made in the mid-century, artists may need to spend more time investigating the means and communities that gave rise to all those mythic recordings, and then bring those imperatives into the present.
The Onyx Collective knows it's standing on hallowed ground. The Lower East Side is where Ornette Coleman took over a school building in the late 1960s, helping to birth a jazz-loft scene that put musicians in direct contact with artists across disciplines, building on the groundwork of the Black Arts Movement.
The ethic that guided this milieu remains critical. At best, jazz means openness, interdependence, cosmopolitanism, and embodiment. Kamasi Washington and his fellow members of the West Coast Get Down have been explicit about their granite commitment to their own collective. It helps explain their wild appeal. Other loose assemblies, such as the Brooklyn freak-folk-jazz troupe Uncivilized, are tapping a similar impulse to build independent communities around music, art, and intervention.
Barr and Williamson, both now 22, met in high school when they attended a nontraditional jazz program at Queens's York College, uniting students of various means and backgrounds and using a liberated pedagogy. "The professor there, Thomas Zlabinger, he had these unconventional methods of running a band," Williamson remembered. "We would have an hour-long talk in a circle before we even played — about whether a bandmate has something going on in school, or whatever. It wasn't just musical, it was very intimate."
Barr's uncle, David Barr, was an HIV/AIDS activist who lived in the Lower East Side but traveled constantly for work, so he gave his nephew a set of keys, and permission to use the apartment. Barr and Williamson set up shop, hosting friends at the apartment on East 12th Street, which was located in a building called Onyx Court.
Sitting in the Shed one afternoon last week, John Coltrane's newly released album Both Directions at Once spinning on a cheap turntable and Onyx posters clinging to the flimsy walls, Barr remembered his high-school crew at the radical Institute for Collaborative Education.
"My school had emo kids, punk kids, rap kids, sports kids, school kids," he said. "At some point or another, all of those kids was in the apartment, and I was playing music and we were hanging and jamming." Somehow, with such a diverse group, "it felt a lot more easy to do what I was doing, to be a saxophone player, to not be judged."
Williamson and Barr went off to study music in college, but both soon dropped out. The curricula were limiting, and the hyperarticulate, academic style of improvising they were learning felt inert — and perhaps a little out of reach. They set up shop again at Onyx Court and, together with a few friends, declared themselves a collective. (They lost access to the space last year, and moved their home base to the Shed, which is attached to a friend's apartment, a few blocks from City Hall.)
Williamson and Barr kept in contact with their childhood mentors — the saxophonist Roy Nathanson, a central figure in the downtown scene of the 1980s and '90s, and the drummer Jamire Williams — while forging new connections. Through his affiliation with the rap group Ratking, Barr secured a spot for Onyx on the underground radio station Know-Wave. Partnerships materialized with Dev Hynes (known as Blood Orange), Princess Nokia, Nick Hakim and an array of visual artists, like Brian Belott, who made the cover for the group's first album, the vinyl-only Second Avenue Rundown.
Virgil Abloh, who this year became Louis Vuitton's artistic director for menswear, discovered them during a show put on by No Vacancy Inn. "Onyx Collective are truly carrying on the tradition of NYC artists," he said via email. "It's vital we as the creative community push these boundaries between art and music, which trickles down into fashion."
Some of the Lower East Side's loose energy is still catchable, even with the hostilities of the Manhattan real-estate market. Williamson met André 3000 in a way that Jane Jacobs would've smiled upon: He saw him on the street, chatted him up a bit, inevitably learned that the living hip-hop legend had recently developed an affinity for free jazz. (Hang around enough at downtown and Brooklyn avant-garde venues, and you'll run into him. It happened to me last year at the Stone, then again at an Onyx show at the Eldridge Street synagogue.)
The equally gregarious Barr has had his share of similar experiences. He'd been watching Jim Jarmusch movies throughout the creation of Lower East Suite Part Three; the director's influence is reflected in the music's inky aesthetic, full of rustling toms and wandering tenor saxophone, as well as the spectral, lone-figure films that the Onyx team made to accompany the release. (One of them was looping on an old TV at the Magic Gallery show.) Barr ran into Jarmusch on the street in the Lower East Side a week before the record came out, thanked the director for the inspiration, and ended up trading stories with him about Nathanson and John Zorn.
Because Onyx moves largely by association, its output is as broad as most New York kids' consumption habits. I saw them give a performance at Le Poisson Rouge in February, opening for Bilal, and the band's jumpy funk tunes seemed as if they were coming from an utterly different group of musicians than the ones who'd made the Lower East Suite. In fact, it essentially was: The musicians joining Barr and Williamson rotate depending on their availability, or the kind of music being played that night.
Having closed the book on the suite, Onyx is moving away from the Albert Ayler–cum–Henry Threadgill spiritual noir sound that has defined its records. It's working on a more heavily produced set of music with the hip-hop producer Mike Swoop — which Barr says we'll be hearing soon.
And it won't just be an album. "We're trying to build an architectural sound-meets-video-meets-installation-meets-art-meets-fashion thing, but very stripped down," Barr said. "We're on the ground. Not just on the surface, but deeply here. It's music for the people, with the people. And to me that prevails over any labels — underground, mainstream, whatever."