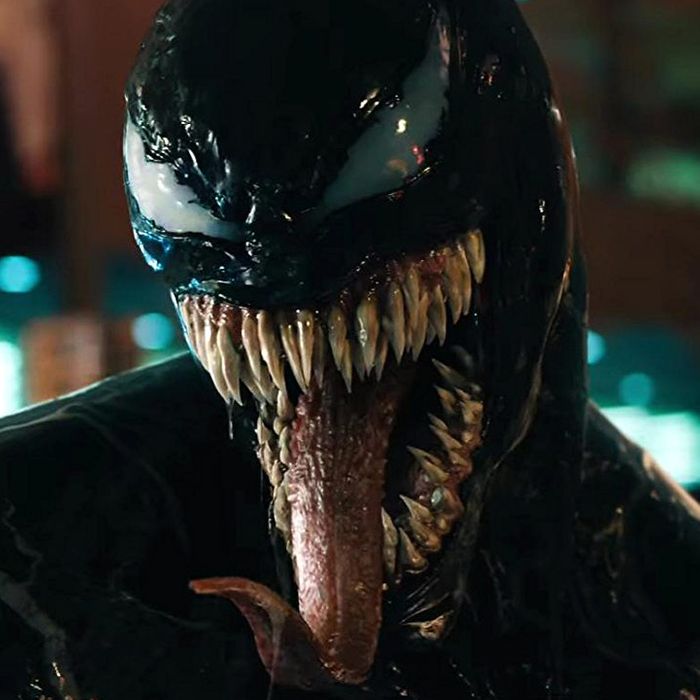 In 2014, former Sony studio boss Amy Pascal worked out a complex agreement with Marvel Studios head honcho Kevin Feige: The two would share custody of Spider-Man. The radioactive-blooded hero would appear in films such as Avengers: Infinity War and Captain America: Civil War within the Disney-distributed Marvel Cinematic Universe, while Sony would continues to release his solo movies, as it had done since the early '00s.
But the executives' signals seem to have gotten crossed last June when Pascal (who stepped down as Sony chairperson in 2015 and now serves as a producer on the Spider-Man films) announced that Spider-Man was getting his own cinematic universe — and that the first two spinoffs, Venom and a Silver Sable/Black Cat movie, would exist as "adjuncts" to the MCU. The information directly contradicted Feige, who has repeatedly and decisively said there'd be no crossover.
Then, asked if Spider-Man star Tom Holland will turn up in Venom — Sony's initial offering in the Spidey canon, which stars Tom Hardy as the titular fanged symbiote anti-hero and is set to hit theaters in October — Pascal offered a coy non-denial. "There's a chance," she said, breaking into a grin as Feige sat beside her, gulping in so much apparent discomfort the footage became a meme. "There's always a chance."
Holland was reportedly spotted on the Venom set in January. And new footage from the R-rated thriller that may or may not feature him as Peter Parker will be unveiled at San Diego Comic-Con on Friday. That Hall H panel is also set to feature clips from Sony Pictures Animation's Spider-Man: Into the Spider Verse, a computer-animated thriller based on the Marvel Comics character Miles Morales. But even as new entries in the Spidey Cinematic U make their way through the development process — Silver & Black, the female-centric superhero buddy thriller to be directed by Love & Basketball filmmaker Gina Prince-Bythewood, and Morbius, set to star Jared Leto as its "Living Vampire" lead and be directed by Swedish filmmaker Daniel Espinosa (Safe House) — general fan befuddlement continues to cloud excitement surrounding the intended interlocking series of movies. Beyond simply questioning whether Spidey himself will turn up in all the Spidey-adjacent content, fans have been wondering aloud for months about the coming entries' tone, relevance, and fealty to the comics on which they are based. In an era of ever more toxic fandom, the nerds are getting restless and looking for reassurance: Are these films going to suck?
In pursuit of an understanding of Sony's overall game plan, Vulture reached out to filmmakers and comic-book writers who either directly participated in rebooting the franchise or consulted in the new direction the cinematic universe is taking. They outlined the possible pitfalls of trying to engineer a new universe at a time when audiences have grown skeptical of them and suggested steps Sony can take to avoid mishandling the material. But the sources also elucidated why fans can and perhaps should be optimistic about the Spider-Man Universe's ultimate legitimacy.
Cinematic universes have become Hollywood's biggest box-office drivers of late, with Star Wars expanding beyond its blockbuster movie trilogies to include stand-alone prequels, Legendary Entertainment's King Kong/Godzilla "MonsterVerse," and the even the lugubrious yet profitable DC Cinematic Universe standing as exemplars of the cinematic-universe business model. Fast and the Furious and Pacific Rim cinematic universes are being shepherded into production. And Universal's woebegone Dark Universe of classic monsters and director Guy Ritchie's stillborn King Arthur "Arthurian Universe" represent the kind of universe failures to launch that have studio executives reaching for Ambien at night. But some industry insiders are already casting doubts on what they perceive as Sony's cart-before-horse effort to engineer the Spidey Cinematic U before even landing a first hit.
"At the core of the endeavor to make a universe lies a deep cynicism," says a writer-director behind a recent major motion picture intended to kick-start a new cinematic universe that fizzled both critically and commercially. "The audience thinks you're just trying to take their money. It's not unfounded. You have to prove them wrong. And Marvel has set a high bar."
For now, Sony is staying mum on its overall Spider Verse strategy; a spokesperson for the studio declined Vulture's request to interview Columbia Pictures president Sanford Panitch, the executive overseeing all the Spidey-related movies, and Palak Patel, an executive vice-president at the studio helping guide Spider-Man creative. But there are a number of early indications Hollywood's newest cinematic U will be tonally and aesthetically distinct from the MCU.
Avi Arad, the Marvel Studios founder who is both a Spider-Man franchise producer and a producer on Venom, expresses faith the first film in the Spider Verse canon has what it takes to start a franchise. "This is an origin story and we have to try and make it the beginning of a long journey," Arad tells Vulture. "Kids love Venom. It's something about it that attracts the anti-hero sensibility. So we are very excited."
Since the early '00s, Sony has licensed the rights to Spider-Man along with around 900 other comic-book characters from Marvel. But don't expect others populating the Spider Verse to be name-brand heroes on par with the likes of Thor or Black Widow. The studio is calibrating the new movies around Spidey's super-villains, frenemies, and adversaries, many of them obscure second-tier characters more familiar to fanboys than the general public. Silver & Black pairs Silver Sable, a mercenary/war-criminal hunter, with Black Cat, a jewel thief/sometimes Spider-Man girlfriend for a genre mash-up with a reportedly comedic tone said to be inspired by Thelma & Louise and Midnight Run. (In a signal of some creative disarray, Sony recently pulled Silver & Black off its original February 2019 release frame and as of now the project is "undated.") Intended for adult audiences, Venom is plotted around an alien creature that became one of the web slinger's archenemies in the 1980s comics, a kind of living super suit that bonds to its "host," giving him superhuman abilities but potentially driving him power mad in the process. And Morbius, based on another Spider-Man bad guy/sometimes good guy, seems likely to go in a horror-inspired direction, following a brilliant biochemist who's imbued with fangs and vampiric abilities — as well as an insatiable appetite for human blood — after an experiment gone horribly wrong.
Last year, Emily Carmichael, co-writer of Pacific Rim: Uprising and the upcoming Jurassic World 3, who is set to direct an adaptation of the popular comic-book series Lumberjanes for Fox, took several meetings with Sony, during which she was struck by the scale of the studio's ambitions for the Spidey Cinematic U. "I was one of the directors called in to pitch on Silver & Black," Carmichael says in an email to Vulture. "At one of my early meetings on the project I got a peek at the phonebook-sized compendium of characters Sony has the rights to, all characters tangentially related to Spider-Man. It's a cinematic universe, all right."
Asked if she thought the focus on "second tier" characters limited the films' financial prospects, the director defended Sony's reasoning. "I heartily object that something known to a few is of a lower tier than something that is known by many," Carmichael says. "There is nothing inherently problematic in this material. If the creative is good, it could be great."
Sony began to first lay plans for its Spider Verse in 2014, maneuvering to have the Marc Webb–directed/Andrew Garfield–starring Amazing Spider-Man 2 kick off a series of spinoff movies plotted around super-villains including Venom, the Green Goblin, and the Sinister Six. But when Amazing Spider-Man 2 failed to meet box-office expectations, the studio scotched its plans. Last year, Spider-Man: Homecoming grossed $880 million worldwide and scored a 92 percent "fresh" rating on Rotten Tomatoes to effectively reboot the franchise. But there's no telling if any movie in the Spider-Man Cinematic Universe will be able to match that film's robust financial and critical performance — or even necessarily launch an a single new franchise. "I think the success — or lack thereof — of Venom will determine a lot of what goes forward," says Jonathan Goldstein, a co-writer on Homecoming who is writing and set to co-direct The Flash for Warner Bros.' DC Cinematic Universe with John Francis Daley.
As Goldstein sees it, the key to creating a successful new cinematic universe is to ensure the highest possible quality for each film as a free-standing entity — to effectively de-emphasize that each is part of a larger Spidey canon. "There is a TV model to Marvel movies in that they are all tied together," he says. "I think that's a tough thing to replicate in other studios. If I were a studio exec, I would focus on stand-alones and films that don't require knowledge of other movies to work. I think you can take a character that was established in another Spider-Man movie and make it completely separate and different from the other movie you saw, as long as it works on its own as a good movie, first and foremost."
Longtime Marvel Comics writer Brian Michael Bendis helped create many of the characters in the Marvel Cinematic Universe. He co-created Miles Morales, who's handed the baton as Spider-Man in the comic series Ultimate Spider-Man, and consulted with Sony on its big-screen adaptation of Into the Spider-Verse (which reaches theaters in December). Bendis freely admits to concocting many characters in Sony's phone-book sized Spider-Man universe compendium and also had several recent meetings with the studio, gaining a detailed understanding of its plans for an interlocking series of films surrounding the web slinger.
Although he refuses to divulge the studio's plans — describing it as "their thing" and not his to announce — Bendis sounds more optimistic than anyone I spoke to about the Spider Verse's potential as a series of commercial movies with the potential to please both critics and nerds. "I happen to have heard some of the plans that have not been made public," Bendis says. "You're asking if they're cool? I thought they were very cool. Fans wouldn't be annoyed with what they're doing."
As the writer-artist sees it, the Spider-Man Universe's lack of A-list comic-book characters presents no barrier to churning out blockbusters. "I had a front-row seat on the development of the first Iron Man movie and the first Guardians of the Galaxy movie," says Bendis, who shocked the comics world by signing an exclusive contract with rival DC Comics in November. "Where today, just a couple of years later, people can't imagine what an enormous gamble the Guardians of the Galaxy movie was. It's about this talking raccoon and a tree! Now people see Iron Man as the golden star of the Disney empire. That is not who he was when they made that movie. Iron Man was a Hail Mary pass. This Spider-Man stuff? There's a lot of meat on the bone."
Bendis is quick to point out he is not currently employed by Sony and has no skin in the Spider Verse game, but he enthusiastically co-signs the direction the cinematic universe is going in.  "Not only are the characters ready for the big stage," he says. "The directors and studio executives — they're us. We all grew up loving these characters. And now the people who grew up wanting these movies are now making them. And not just a crappy Spider-Man movie. A really good Spider-Man movie. Everyone's aiming high."
Vulture staff writer Abraham Riesman contributed reporting to this story.