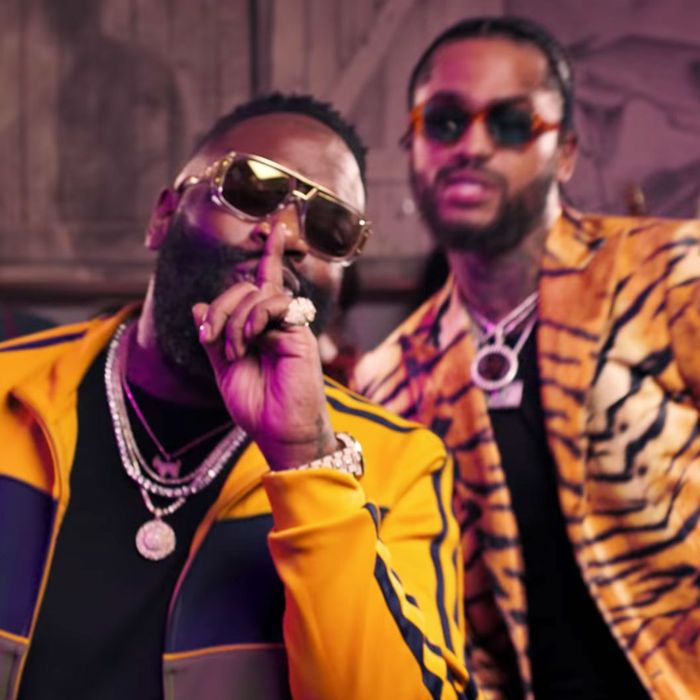 You work a job long enough, and you start to pick up certain occupational perks. Doctors have steady hands. Shippers are great drivers and routers. Rappers are geniuses with words, but a more fascinating perk they possess is the ability to look cool in any environment, both literally and figuratively. Think of all the great hip-hop party videos — "Big Poppa," "Nuttin' But a G Thang," "Big Pimpin.'" Not a single bead of sweat. Heat was all I could think of on a balmy spring day as I walked onto the set of the video for Rick Ross and Dave East's "Fresh Prince of Belaire," a celebration of Harlem rap, Miami cool, party scenes, and cold Luc Belaire Rare Rosé. The set was a loft in Lower Manhattan I'm told once belonged to Taylor Swift and that, like all of the best New York City apartments, feels both roomy and compact at the same time. I walked in and immediately started melting, but I never saw Rick Ross sweat.
That's been Ross's story since his 2006 debut album Port of Miami. Life tries hard to throw him off his game, but he remains steady. This year has been full of peaks and valleys for the rapper/mogul and his Maybach Music Group. Ross had a health scare in March when paramedics were called to his home on reports that he was unresponsive. (He returned to social media the same week but hasn't spoken much about the incident since.) MMG's Philadelphia signee Meek Mill spent the better part of a year in prison when Manhattan cops picked him up for popping wheelies on a dirt bike without a helmet, and the judge presiding over his case decided to make an example out of him. The week of the "Belaire" shoot marked the start of a comeback season for MMG. Meek came home the next day. Actually, to be precise, he flew from jail to the nearest Philadelphia Sixers game, via helicopter.
"Fresh Prince of Belaire" joins a flurry of new music from Dave East — who was wearing a jacket that looked like he'd skinned Tigger from Winnie the Pooh — and from Ross and his camp that now stretches from the solid Wale EP Self Promotion, Meek's just-released Legends of the Summer EP, and Ross songs with Future and Pusha-T. East is workshopping tracks for his forthcoming debut studio album, but his latest mixtape, January's excellent Paranoia 2, is full of sharp observations and rags-to-riches stories from the East Harlem rhymer, whose journey from life as a promising hometown basketball prospect to signing a record deal with Nas's Mass Appeal label was documented this year in the Netflix hip-hop docuseries Rapture. Below you'll find the video for "Fresh Prince of Belaire," directed by Michael Parks Randa — a strong cocktail mixing street rap, liquor, '90s fashion, and a whole lot of Belaire product placement — and quick chats with Rick Ross and Dave East.
I think I speak for the whole of hip-hop when I say we didn't know you had hair! We've seen you bald for ten years.
Rick Ross: In Miami, we call it a number one. That's what the hustlers always wore, because it worked on every coast, regardless of where you went. So when the Gumbys were in style, we always kept it low, 'cause that's what the hustlers did. That's what it was. I love it. I still do. Shout out to RICH Haircare. We had to give 'em a different vibe for a little while, but I'm sure I'll be back at the number one soon.
You do a lot. You're a rapper,  you run a label, run a wing franchise, and do brand ambassador work.
It's natural for me because it's all things that I love. If it was something that I didn't really care for, then it would actually be work. I love Belaire, the crew that we got, the team. I think this is one of the most exciting brands in the culture, the way we're coming together from myself, DJ Khaled, Steve [Aoki], Dave East, the Migos. It makes it fun. So when we get together and bust a bottle or two in the club, it's like "Yo, let's do a record." It only makes sense to shoot a video. Let's have some fun with it. So that's what this is right now. It's just a cool day.
Where do you go after that? You have your feet in music, in entertainment, in food …
Maybe, possibly, an airline.
It's been kind of a quiet year for MMG so far … Wale came out with the EP. Do y'all have plans for the summer that we don't know about, or are you waiting for some things to line up?
I think that everybody knows what's going on as far as our campaign for making sure Meek Mill gets his feet back on the streets. That's a priority for myself, as well as putting the finishing touches on Port of Miami II, which is gonna be huge. Wale just released an incredible EP that really touched the streets in a special way. He's cooking up his next project. So we actually got a lot of things going on.
What about you … you're good? Are you good?
We here, man. It's all good. We here.
How did this song come together?
It was me and Dave just kicking it, going back and forth. You see us all the time posting pics. We ran into each other in the club, then the next day we followed up like, "Let's put some music behind it." So this is the first Rick Ross and Dave East collaboration, and it was dope that Belaire supported the vision when we ran the record by them. We brought back that Fresh Prince of Bel-Air flavor. Shout out to Will. Shout out to 215.
What is your favorite Fresh Prince moment?
It's so many! I was a real avid Fresh Prince of Bel-Air fan. I think I may know every episode. I know I loved that episode … Elise Neal had the black and white striped pants on … I can go on and on. That was one of those incredible shows from my generation that really stood out. As I was finishing high school, Fresh Prince was, by far, out front. The generation before me, it may have been the Huxtables, but for me and my homies, Fresh Prince … he had the Jordans on. He was doing his thing.
You grew up in East Harlem, but now you're getting to work on records with legends … talk to me about the process of coming from where you grew up to where you are now.
Dave East: I always seen it, but I didn't really know how to get to it. It's a dream … some shit you wanted to do as a kid. I wanted to play ball, but that ain't work out. The rap shit was something that was cool to me.
A lot of rap fans grow up feeling like they have to choose sides between lyrical stuff and party stuff, but you're someone who came up shouting out Mase and Nas. How do you balance it?
As far as the party side, that has a lot to do with production. But even on a party record, I'm still trying to apply some type of lyricism to it. I'll never put out some super-dumbed-down music. It'll always have some substance to it. But I think about it a lot. All the greats had them. Biggie had "Hypnotize." All them had them joints. Nas had "Oochie Wally." All the dudes that I looked up to had them bounce, club records, but that's just not my main focus.
Talk to me about what space you're in after Paranoia 2. That record had a lot of songs about people changing up on you and people treating you differently. How do you stay grounded in the middle of that?
Just keeping the same people around me. My daughter, my family, shit like that. But people change for good and for bad. A lot of people change for good. Some people just fall off. Just trying to progress in anything, no matter what you're doing I feel like any progression you make … some people aren't gonna be around you that were around you. It comes with it. But I try to take the good and the bad. Just stay in the studio.
You seem like someone trying not to forget where you came from and who you came up with. What keeps you motivated?
Seeing my homies' faces every time some new shit happens. Doing shit we used to talk about. Like, I'm doing a video with Rick Ross today. We've been listening to Ross in the hood forever! It's dope to have my homies that were with me in the projects, in the hood, talking about this, being around it to see it happen and meeting Ross and seeing it happen. So that's what keeps me motivated. Just trying to scratch shit off the bucket list.
What's something on the bucket list that people wouldn't think would be on there?
I really wanna, like, travel, man. I wanna go to every country on the Earth. I be watching Discovery Channel and shit when I get high. I just wanna go see other shit. Where we're from is so small compared to the world. I wanna travel and stamp my passport.
Have you been stockpiling records for your studio album, or is that something you plan on going in fresh for?
With me, I record so much that I just get in the zone. I maybe have one or two records that I might wanna use for my debut album. It's a vibe I catch. Then from that, I'll venture off into a topic, and that shit'll turn into an album. I sit back and listen to the shit I did … I might take a verse from one song and put it on another beat, and then that creates a whole 'nother record. So I just really sit and fuck with my own music, see what I can use, what I wanna keep, what I don't wanna keep. I got a lot of content. I record three, four records a day. Shit that people may never hear. So I just try to keep my gun loaded, so I'm ready to shoot at anytime. Anytime they're ready for an album, ready for an EP, anything that's needed, I have that shit ready.
So I asked Ross … what's your favorite Fresh Prince moment?
Aw, shit. Probably the episode with G-Money, when they were playing basketball. G-Money was on the other team. G-Money from New Jack City. I think his name is Allen Payne. [It is.] That episode.
A lot of people don't know you used to play basketball. They say there's only the three ways out of the ghetto … You worked toward two of them.
That's a fact. There's a casket, a sale, an NBA contract, or a rap. Ain't nobody really playing football in Harlem, so it's basketball. That was my main. The rap shit came after the ball ain't work. I treated it the same way. I used to go hard with the ball. I'm locked in the studio now. I've been in the studio damn near every day since I said I was gonna become a rapper.