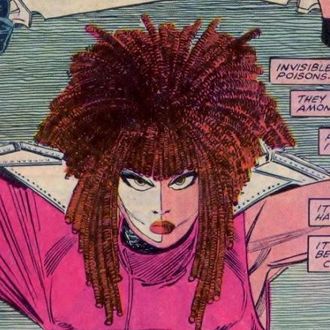 She's a weird one.
Photo: Marvel Entertainment / John Romita, Jr., Al Williamson, Christie Scheele, and Joe Rosen
There was a great deal of punching to be seen at San Diego Comic-Con's Iron Fist panel on Thursday. Clip after exclusive clip depicted bouts, brawls, and tussles, many of them involving fists. But one particular bit seemed to grab the audience's attention more than the others: a fight that featured the first Marvel cinematic universe sighting of classic Marvel Comics villain Typhoid Mary, played by Star Trek Into Darkness alumna Alice Eve. We'd been told just a few moments prior that's who Eve would be portraying, and the crowd went nuts over it. But who is Typhoid Mary, exactly?
A decent question! She is a C-tier baddie, but a much-beloved one. Created by the chronically underrated writer Ann Nocenti and the never-underrated artist John Romita Jr. in 1988, she was initially a Daredevil villain and has subsequently been associated with a number of other heroes, though not often with Iron Fist. Mary has dissociative identity disorder (which was once known as multiple personality disorder), and as such, different splintered identities pop out of her at inopportune times, ranging from the meekly pacifistic to the brutally murderous. Given all that, expect a lot of takes about Iron Fist's depictions of mental illness when season two debuts on September 7. Oh good, more Iron Fist takes!