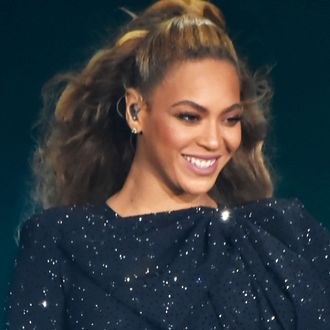 Really, who else could?
Photo: Kevin Mazur/Getty Images For Parkwood Entertainment
Because shooting on location at one epicenter of cultural history would just be boring, Beyoncé is apparently attempting to do it twice. After filming her "Apeshit" video with Jay-Z at the Louvre, Italian newspaper Il Messaggero now reports that Beyoncé has submitted a request to film at the Colosseum (though it's unclear for what). And, yes, that Colosseum, the Roman landmark where the gladiators and Russell Crowe once fought. Her initial request to film there on July 7-8 (when she and Jay-Z were in town for their On the Run II Tour) was reportedly rejected by Italy's Ministry of Cultural Heritage because Italian scientist (and, hello, "sex symbol"!) Alberto Angela already had the amphitheater booked. Who knew! They also note that Beyoncé's request was too short notice to accommodate because the Colosseum is "a very complicated place." (The Louvre: much less complicated.)
But this isn't over yet: Beyoncé has reportedly resubmitted her request and it's currently under review. Notably, Bey has already filmed at the Colosseum once before for that iconic Pepsi commercial with Britney Spears and Pink in which they all dressed up as gladiators, sang some Queen, and pissed off Emperor Enrique Iglesias. When in Rome!