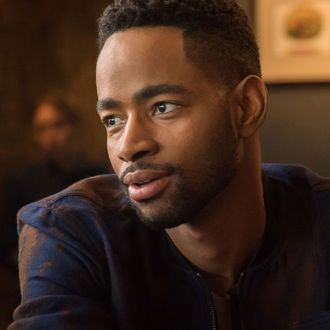 You've been warned, Lawrence Hive: There's a good chance that Jay Ellis won't return for Insecure's third season. Fans witnessed Issa (Issa Rae) and Lawrence's (Ellis) crushing good-bye at the end of season two when Lawrence discovered Issa's relationship with Daniel (Y'lan Noel), and going by this new teaser, he's nowhere to be seen in season three. The hive may be up in arms over the decision, but Issa Rae and showrunner Prentice Penny aren't concerned.
"No, I don't care!" Rae tells Vulture at Insecure Fest in L.A., regarding potential fan reactions. "We want to stay as true to life as possible. They had a great conversation at the end of season two and it was just about like, hey, she's moving on Daniel, sometimes we have those conversations," Rae says. "You never see the exes again. And it's okay! You gotta explore life without Lawrence."
Penny adds, "At the end of the day, we're always trying to tell stories that are true and authentic. We were in the writers room and we were initially talking about, Okay, well what is he doing?… Well, he's not in her life right now. It was hard to make stories around that." It seems closure is closure for these two … at least for now. "We just said, well, if he's not around, he's not around," Penny says. "Let's just deal with the reality of what her life is now. Let's be true to that, when you breakup and you have closure."
Like it or not, it seems Lawrence's exit will make way for new potential suitors in Issa's life. "It was also like, well where is Issa in her life right now? What would challenge that? And you'll see lots of people who are her love interest kind of come in and out," Penny teases. And there won't just be one new guy, but a few. "Or guys?… Guys! Maybe. I think people will be rooting for her like they kind of always do, to make the right choice." Work that hoetation, Issa!