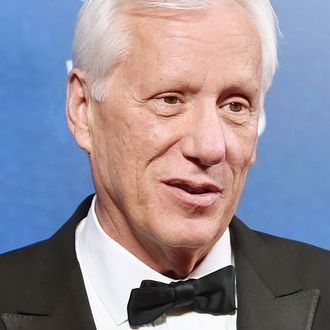 James Woods.
Photo: Alberto E. Rodriguez/Getty Images for WGAw
James Woods has somehow managed to get a Hollywood agent to act according to his conscience. On Twitter today, Woods shared a screenshot of an email he said he received from his agent Ken Kaplan on the Fourth of July, in which Kaplan said he was "feeling patriotic" and had decided he didn't want to represent Woods anymore. Woods spends much of his time on Twitter going on about right-wing ideas (or getting dragged by Armie Hammer and Amber Tamblyn), and Kaplan, who Woods described as a "political liberal," added, "I mean I could go on a rant but you know what I'd say."
Woods also posted his response to Kaplan, where he claimed that "if you're feeling patriotic, you would appreciate free speech and one's right to think as an individual."
Kaplan and his agency Gersh haven't formally commented on Woods's tweets. He could use some new representation, after all, if he wants to get a spot in Jon Voight and Stacey Dash's strange Roe v. Wade movie.