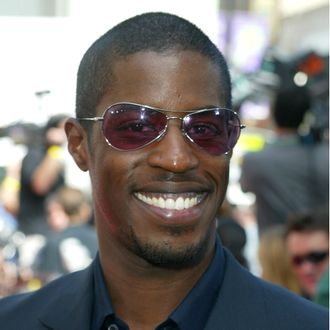 Ahmed Best.
Photo: Ron Galella/WireImage
Anyone alive and old enough to see a PG movie in 1999 undoubtedly remembers the avalanche of fan hatred that surrounded Jar Jar Binks, the goofy (literally, he was based on Disney's Goofy) alien who served as comic relief in George Lucas's Star Wars prequels The Phantom Menace, Attack of the Clones, and Revenge of the Sith. No one remembers it as acutely, of course, as actor Ahmed Best, who took to Twitter this week to reflect on weathering such an extreme public backlash for a role.
"20 years next year I faced a media backlash that still affects my career today," Best tweeted on Tuesday, along with a seaside photo with his son. "This was the place I almost ended my life. It's still hard to talk about. I survived and now this little guy is my gift for survival. Would this be a good story for my solo show? Lemme know." In an interview with Wired last year, the actor described how the fan hatred took a toll on him emotionally. "I had death threats through the internet," he said. "I had people come to me and say, 'You destroyed my childhood.' That's difficult for a 25-year-old to hear."
In response to his post, franchise collaborators, including filmmaker and puppeteer Frank Oz, who also worked on the prequels; The Last Jedi director Rian Johnson; and Chewbacca actor Peter Mayhew offered their support and even, in Oz's case, their love of the googly eyed Gungan himself.