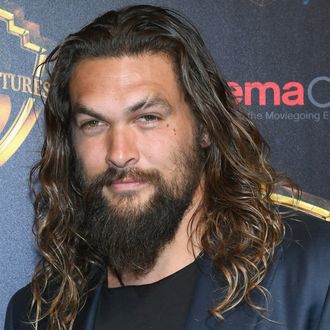 Jason Momoa.
Photo: Ethan Miller/Getty Images for CinemaCon
In the land of the blind, Jason Momoa is king. Also, in every other land. According to Deadline, the Game of Thrones actor has been cast as Baba Voss, "a warrior, leader, and guardian" in Apple's original sci-fi drama See. Because who else were you going to call for that role, really?
Written by Steven Knight, creator of Eastern Promises, Taboo, and Peaky Blinders, the sprawling See, which Deadline reports has a ten-episode order, reportedly takes place on a futuristic Earth in which humanity has lost its sense of sight. Society is then thrown into chaos when "a set of twins with sight is born," and boy, are they going to be shocked when they see Jason Momoa there.