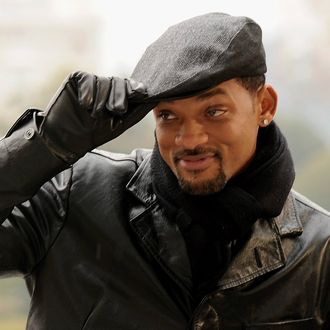 In a new interview with Tidal's Rap Radar, Will Smith talks about working on a brand-new album ("I'm in the studio now and I have real things to say"), Kanye West ("He's making people think"), and that all-white Batman costume son Jaden wore to prom and Kim and Kanye's wedding ("Ye was cool. 'Yo, I love that!' Kim was a little bit like, 'Jaden … '") The actor reflects on the many highlights of his rap and acting careers, but if you want to know the absolute pinnacle of his creative output, you have to ask Jay-Z, who thinks it's the one time Will Smith slapped a Russian prank reporter.
You might recall several years ago that would-be Borat-style faux reporter Vitalii Sediuk was "pranking" celebrities left and right, giving Madonna hydrangeas, grabbing Gigi Hadid, and kissing Smith on the face. That interaction ended with the actor backhanding Sediuk on the Men in Black 3 red carpet. According to Jay-Z, nothing Will Smith ever does again will top the video of that event. Smith recalls checking his phone after the altercation, still fuming over the prank. "I get back and I'm pissed that somebody thinks because you're famous, they get to do whatever they want to do to you," he recalls. "So I'm in my room and I had ten urgent messages from Jay-Z."
"So I call him and say, 'What's up?' He sounds winded," Smith laughed, imitating Hov's frantic voice. "He said, 'I just saw the video of you slapping the dude in Russia. I just want you to know you'll never make a better piece of entertainment. It's the funniest thing I've ever seen.' He said, 'Me and Bey, we got a show tonight, and we're thinking about cancelling it and just staying in and watching you slap this dude.'" You can hear the story, which starts at around 7:12, and the rest of the interview in full below.