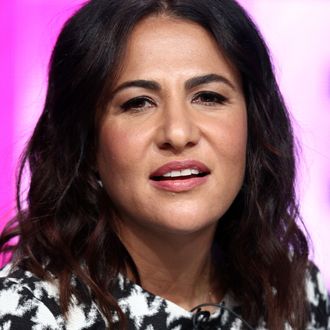 Jenni Konner.
Photo: Frederick M. Brown/Getty Images
At HBO's TV Critics Association panel today, Jenni Konner briefly addressed her split from her Girls producing partner Lena Dunham, with whom she produced the new show Camping. "We feel super lucky to have had eight amazing years together," Konner said. "That's really long for a collaboration and we just want to do different things. There's no drama. It's just work. It's just the creative process." Konner appeared with the series' star Jennifer Garner; Dunham was supposed attend via satellite, but she dropped out at the last minute, as, HBO said, she had been hit with the flu. At the panel, HBO also announced that Camping, which is based on a British series of the same name, will premiere October 14. In the show, "to celebrate her husband Walt's (David Tennant) 44th birthday, the obsessively organized and aggressively controlling Kathryn (Garner) gathers together her meek sister, her holier-than-thou ex-best friend and a free-spirited tagalong," according to HBO's description, "and what was supposed to be a delightful, back-to-nature camping trip quickly becomes a weekend of tested marriages and woman-on-woman crime that won't soon be forgotten." The people behind Girls writing about passive-aggression, what more could you want!
Maria Elena Fernandez contributed reporting.