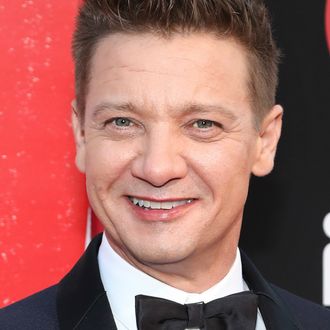 Jeremy Renner.
Photo: Jerritt Clark/Getty Images
According to Deadline, Jeremy Renner has joined Todd McFarlane's upcoming Spawn film from Blumhouse. The Tag star will reportedly play Detective Twitch Williams, who fans of the comic will recognize as one of a pair of NYPD homicide detectives (the other named Sam Burke) who are at first horrified by, then eventually work alongside, Jamie Foxx's titular demonic superhero.
Interesting, while the movie bears the name of Foxx's character, McFarlane's discussion of the film suggests Williams is allegedly the film's actual protagonist, not Spawn. According to an interview he gave Vulture in July 2017, the comics creator revealed Spawn would not be the main character if he gets his way, but rather a horrifying entity akin to the shark in Jaws, the driving force behind the film but not necessarily its main character. Also, McFarlane wanted him to be completely silent.
In his statement to Deadline today, McFarlane referred to Renner's Williams as "the person on screen the most" and "the face of the film." Of course, seeing as how Jamie Foxx has now been cast as McFarlane's hell-born hero, it seems a little silly not to let him, you know, step into the spotlight a little bit. On the other hand, Michael Myers, Jason Voorhees, that big shark. There's a lot to be said for quiet and scary.