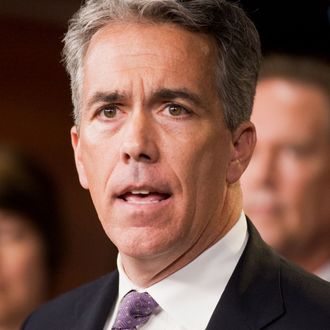 Joe Walsh.
Photo: Tom Williams/CQ-Roll Call,Inc.
Sacha Baron Cohen is getting plenty of free press for his new comedy series premiering this weekend in the form of angry conservatives complaining online that they were duped by him and Showtime. Yesterday, Sarah Palin wrote a blog post claiming that Cohen disguised himself as a disabled veteran for an interview with her and calling Cohen's humor "evil, exploitive, sick." Now congressman turned radio host Joe Walsh has shared his own experience. Walsh says Cohen's team flew him to D.C. and booked him a hotel room for a fake pro-Israel event that honored him with an award for his "Significant Contributions to the State of Israel." Walsh made sure to include the #BoycottShowtime tag on his tweets recounting the experience:
Only time will tell how many more conservatives will offer up spoilers before Who Is America? debuts on Showtime this Sunday at 10 p.m.