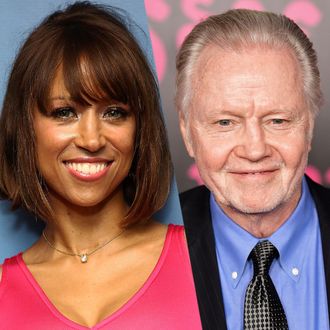 Dash, left, and Voight.
Photo: Getty Images
Meanwhile in New Orleans: Nick Loeb (Sofia Vergara's ex) is directing an anti-abortion movie starring Stacey Dash and Jon Voight. The film has been kept secret as the crew secures filming locations, according to The Hollywood Reporter, but the magazine did manage to get a few details: Voight and Robert Davi play Supreme Court justices, along with Corbin Bernsen (Psych), John Schneider, Steve Guttenberg, William Forsythe, Wade Williams, and Richard Portnow. Dash is Mildred Jefferson, the first black woman to graduate from Harvard Medical School and the former president of National Right to Life.
Several cast members have quit the film after learning of its anti-abortion message, and at least three locations rejected the movie. Per THR, the filmmakers weren't allowed to film at Louisiana State University, they were protested at Tulane, and they were locked out of a New Orleans synagogue. "Once they found out what the film was about, they locked us out. We had to call the police so that the extras and caterers could retrieve their possessions," Loeb told THR. Nevertheless, the director is persisting: "I have my own pro-life issue going on with my fight over embryos, but no one has really told the whole truth about Roe v. Wade in a film. When I delved into this, I discovered conspiracy theories, fake news, made-up statistics and a whole lot of people involved who switched their positions from pro-choice to pro-life, including Norma [McCorvey, the case's plaintiff]."
The movie is filming under a fake title for now, and is aiming for release in January.