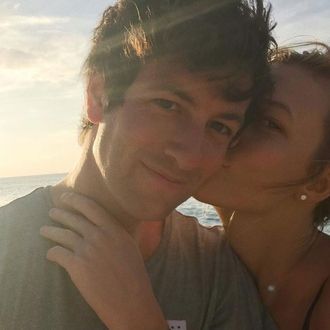 Joshua Kushner and Karlie Kloss.
Photo: Instagram/karliekloss
It's an even better day than usual to be a rich, beautiful, blonde New Yorker in love. As first announced on social media, supermodel and coding enthusiast Karlie Kloss is officially engaged to her longtime beau, Manhattan real-estate scion Joshua Kushner. The bride's close friend and sometimes doppelgänger is Taylor Swift, a musician who has had success on the pop charts; the groom's brother Jared is married to women's-rights advocate Ivanka Trump, and works as a senior adviser to her father, Donald, the president of the United States. It is currently unclear whether Swift, or any members of the extended Kushner-Trump family, will be in attendance at the wedding, but with any luck, the happy nuptials will provide us a wedding photo even weirder than this one.