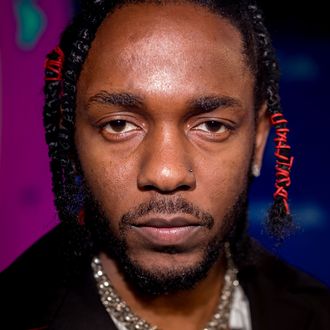 Engrave his name on your statues accordingly.
Photo: Christopher Polk/Getty Images
Don't look now but Kendrick Lamar is coming for the PEGOT (that's Pulitzer, Emmy, Grammy, Oscar, Tony — keep up!). Starz has announced he'll guest star on this Sunday's episode of Power opposite 50 Cent's Kanan. No details are known about who, exactly, he'll play — a "friend," allegedly — but if we had it our way, he'll cameo as Floyd Mayweather, 50 will break character, and further unnecessary, ridiculous, petty drama will ensue. We'll bill you later, writers room. As 50 would say, get the strap!
Update, July 28: Vulture can confirm Lamar will be playing a drug addict in Sunday's Power episode. Speaking at the TCAs on Saturday afternoon, showrunner Courtney Kemp declined to say if Lamar will appear in future episodes.