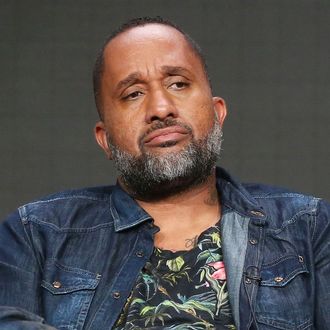 Kenya Barris.
Photo: Frederick M. Brown/Getty Images
After months of rumors, Kenya Barris is officially departing ABC, and it's likely for a huge contract with Netflix. The Black-ish creator was in the first of a four-year overall deal with the cable network, but according to The Hollywood Reporter, "sources say he could become the next mega-producer to ink a nine-figure overall deal with Netflix," which also now houses Ryan Murphy and Shonda Rhimes, who signed big deals of their own.
"I'm very grateful to Patrick Moran and his team at ABC Studios, who have supported me every step of the way as I created the worlds of Black-ish, Grown-ish and now Besties. It has been an incredible ride including a Peabody and Golden Globe win, Emmy nominations, and many other accolades. But most importantly, they've allowed me to realize my dream of creating my own shows and I'm so proud of the work we've done together," Barris said in a statement Friday. "No matter what, the studio has never wavered in their support of my creative vision. Leaving is bittersweet, but between my series on the air and projects currently in development, I know I'll continue to work with ABC Studios for a long time."
Barris is already developing a Shaft feature film for Netflix with Samuel L. Jackson, and as THR reports, he also has a film deal in place with Fox.