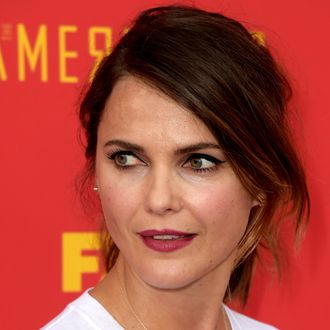 Keri Russell.
Photo: Kevin Winter/Getty Images
It turns out last week's Star Wars: Episode Keri Russell news was only the beginning of her rise to cinematic domination, which she rightly deserves. According to The Hollywood Reporter, The Americans actress is also currently in talks to star in the movie Antlers, based on writer Nick Antosca's short story "The Quiet Boy," produced by Guillermo del Toro and directed by Black Mass director Scott Cooper.
As you might have guessed by the involvement of The Shape of Water and Crimson Peak director, the film is a supernatural horror thriller, which would potentially star Russell as "a teacher who takes an interest in a mysterious and withdrawn student. Only too late does she discover that the boy is harboring a deadly secret that is key to their town's survival." Now, before you pile on with a few more The Shape of Forest jokes, just know there is no way the movie is going to follow in The Shape of Water's romantic interspecies footsteps. For one thing, Guillermo del Toro didn't write it.