"Contour the shit out of me," says Kevin Kwan before his photo shoot, closing his eyes as a groomer applies a walnut-brown powder along the underside of his jaw. "More!" he says dramatically. "More!"
Kwan is a mostly willing, occasionally reluctant participant in the remaking of his image as the author of the best-selling novel Crazy Rich Asians. The first book in a trilogy — which includes the sequels China Rich Girlfriend and Rich People Problems — was published by Doubleday in 2013 and has mushroomed in popularity as the movie adaptation, starring Constance Wu and Michelle Yeoh, inches toward its August 15 release. (The original novel hit No. 1 on the New York Times' best-seller list for paperback fiction for the first time in July.) "People are often disappointed when they meet me," says Kwan, "because I'm not this giant, flamboyant — you know, I don't wear sequined jackets."
Instead, he favors a look he describes as "classic Euro-slouch," and when I first meet him earlier that morning, browsing the shelves at Casa Magazines in the West Village, Kwan, 44, is dressed in a simple red herringbone Boglioli blazer and his trademark circular glasses, like someone who's most comfortable just outside the frame. "I have every issue of Vanity Fair starting from 1985, although I have to say, I don't like what it's become," he says, as we squeeze past the August cover with Kendrick Lamar shot in the pared-down aesthetic preferred by the new editor, Radhika Jones. "I'm really kind of shattered about it. They sold a fantasy — a fantasy of politics, of entertainment, of society, of art. And now every issue is just Trump, Trump, Trump," he says. "I'm trying to get away. I open a magazine to escape." Then he picks up the August issue of Town & Country, which includes a feature on his own grandparents, who helped inspire his novels.
Crazy Rich Asians, both the book and movie, is set in the world of Singapore's unfathomably rich, where indoor ponds are filled with baby sharks and pet fish get plastic surgery (all true). The (human) fish-out-of-water protagonist is Rachel Chu (Wu), a middle-class Chinese-American professor of economics at NYU who travels to meet her boyfriend Nick Young's (newcomer Henry Golding) family in Singapore, where she learns that he's the favorite grandson at the center of three powerful families who have intermarried to protect their fortunes and that they see her as a threat.
"I have a photographic memory," Kwan says as he steers us toward Tea and Sympathy, one of his neighborhood haunts; it serves as the setting for the first scene between Rachel and Nick. The first and third novels, set mostly in Singapore, flowed out of him quickly, because he could easily reference the mental index of socialites, designers, artists, and architects he accumulated while growing up in his grandparents' posh home in Singapore and later as an adult in New York, where he got his B.F.A. in photography at Parsons and then worked as a creative consultant for brands and celebrities, including Elizabeth Taylor.
Kwan comes from the same gilded world as Nick, and his descriptions of Nick's early life in his grandparents' home in Tyersall Park are tinged with nostalgia. Kwan, too, is the product of the alliance of three wealthy families — the Kwans, the Ohs, and the Hus. His paternal grandmother, Egan Oh (daughter of a founder of one of Singapore's oldest banks), married Arthur P.C. Kwan, a Hong Kong–educated ophthalmologist. Kevin's father, an electrical engineer, and his mother, a pianist, moved the family to Clear Lake, Texas, when he was 11 to escape the scrutiny of Singaporean society.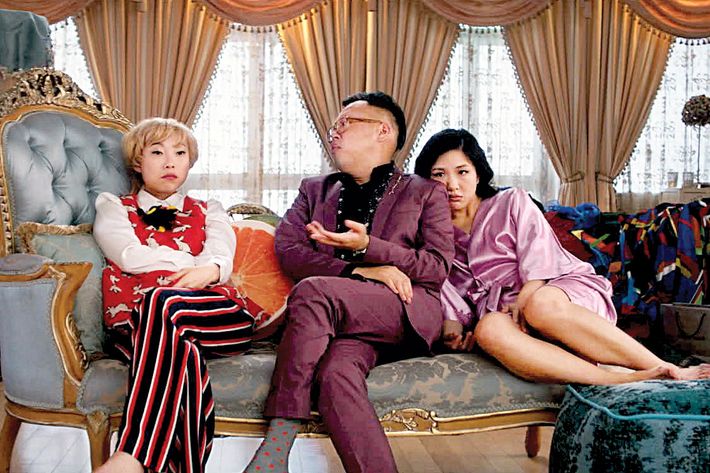 In Rich People Problems, Nick attempts to save his family home by having it classified as a historic site after the death of his grandmother. Meanwhile, Kwan's childhood home, which stood at the top of a hill offering a view of the entire city, was razed by developers after the death of his grandparents in the '90s. "The hill where our house was was flattened out, because they took all of the topography out so they could build more houses," Kwan says. "So instead of having a house on top of a hill, you now have like four houses crammed into what used to be a hill. But that's the story of what's happened in Singapore."
When it comes to questions about his personal life, Kwan stiffens up, almost like Nick, who was taught from an early age not to talk about his family. I ask if he's in a relationship or has siblings, and he'll tell me only that he's single and the youngest of three brothers. "They're super-private and super-paranoid, so I don't ever talk about them," he says.
Crazy Rich Asians came to Kwan after the death of his father in 2010. At the time, he was producing a coffee-table book about Oprah's TV show, traveling back and forth between home in New York and Oprah's offices in Chicago, and he wrote on planes and in airports and hotels. He scribbled the word joy on a yellow sticky note and put it on his laptop as a reminder of why he was writing. "I wanted to do something that just brings me pure joy, but also bring other people joy. That was kind of my epiphany," he says. "I didn't know what kind of story I was going to write. I just started spilling my truth, and then it became this fun, sprawling, crazy novel."
Even before the book was published, Kwan had a round of meetings with producers, including one who suggested turning Rachel into a white woman. ("It was a very quick conversation that I shut down," he says.) He eventually partnered with Color Force, the studio, founded by producer Nina Jacobson, behind The Hunger Games, and John Penotti of Ivanhoe Pictures. Not only had they actually read the book, Kwan says, but they saw the possibility for a movie with broad appeal rather than one "just for China."
Kwan took an active role on the movie as an executive producer, but, he says, "right after we shook hands, they were like, 'Do you want to adapt the script?' And I said, 'Hell no.' I felt way too close to the material, and I was not an expert screenwriter at that point." (He's now writing a pilot for an original one-hour TV drama set in Hong Kong but refuses to share any more details.) He had input into the film's casting, though. He wanted Michelle Yeoh to play Eleanor Young, Nick's terrifying mother. And for the part of Nick's nonagenarian grandmother, Kwan recommended the actress Nancy Kwan, his father's real-life distant cousin, who starred in Hollywood's first and only other Asian-led romantic comedy, 1961's Flower Drum Song; it didn't work out because Nancy, who is 79, looked too young. "She's fit as you can't believe," he says. "She looks like she could be a 50-year-old woman, not 94."
"Hollywood is a whole other level of crazy," he says as we hop in a car to his photo shoot. "I've never met so many assistants who have assistants. It's a stratified society on its own. At the agencies, all of the receptionists are beautiful British women, and all of the young junior agents are in their Gucci and Prada suits. And then, higher up, there's less stubble and bigger bellies. It's a funny world." He adds, "I could write a whole book about it, and I might."
Before the shoot, he looks at a rack of clothes, opting for a light-blue Canali jacket. "I'm so personally not a vain person, like I could give a shit, but being in magazines, your Asian relatives come out and start criticizing all your pictures. My mom will call me up, like, 'You look so fat!' " he says. "I'm a writer. I'm naturally introverted, so being the public face of something, I don't think I do it well. I'm such a perfectionist that I want to hire someone to play me who can do it well."
Like who? "Henry Golding," he jokes. "I should have derailed his career: He could have just played me."
*This article appears in the July 23, 2018, issue of New York Magazine. Subscribe Now!