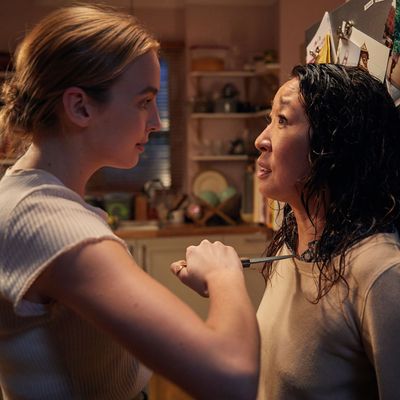 Last year, Emmy voters shook things up in the outstanding TV drama department by replacing a few longtime nominees with five brand-new series. When the 2018 Emmy nominations are announced on Thursday morning, will there be another shake-up? Or will voters, as they have tended to do in previous years, stick with a slate of nominees that looks mostly familiar?
Odds are strong that the 2018 nominees will be more redundant than not. Two-time winner Game of Thrones, eligible for its seventh season, will surely be nominated. It's fair to assume that last year's winner, The Handmaid's Tale, will get a nod, too. Four other series recognized for their first seasons in 2017 — The Crown, This Is Us, Stranger Things, and Westworld — have a good shot at making the cut for their second. It also seems likely that the final season of The Americans, a series nominated in this category just once before, will earn a nomination. (If it doesn't, I plan to remove one of my own teeth and fold my body into a modestly sized suitcase as a form of protest.)
If all of these shows wind up being nominated, that won't leave room for anything else. Which raises the question: What about Killing Eve? One of the buzzier and most universally praised series of 2018, Phoebe Waller-Bridge's British spy drama is the kind of intelligent, addictive piece of work that deserves to be recognized by Emmy voters right out of the gate. And that could happen … if everything breaks the right way. Here's a look at the factors that may work against a nomination for Killing Eve, and those that may help it.
The Case Against Killing Eve
No BBC America series has ever been nominated for outstanding drama
Luther has been recognized twice as an outstanding limited series, though it never won, while its star Idris Elba has been nominated four times. Tatiana Maslany was nominated twice for her multi-identity performance on Orphan Black, and she won the outstanding lead actress in a drama Emmy in 2016. But Orphan Black was never nominated as a series. This doesn't preclude Killing Eve from being nominated, but the lack of precedent is a bit of a hurdle.
It'll need to overcome that whole repetition issue
Aside from last year, Emmy voters have had a bad habit of Xeroxing their previous nominees and more or less repurposing them. It's not uncommon for voters to nominate nearly everything they nominated the previous year. If they go that route, that only leaves two slots blank, since Better Call Saul and House of Cards aren't eligible this year. One of them will be filled by Game of Thrones and the other will likely be taken by The Americans, which got left off the list in 2017. The lineup I just laid out is exactly the one that Gold Derby and Variety have predicted will come to pass on Thursday morning, and it's very possible they are right.
The nominated dramas are (almost) always created by men Yes, there are exceptions to this rule: Westworld is co-created and overseen by Lisa Joy, and Orange Is the New Black showrunner Jenji Kohan snagged a nomination in 2015. If you go back to the 1980s, you can even find some dramas – L.A. Law, Cagney & Lacey — that were created or co-created by women and actually won the big prize. Still, it's frustratingly rare for the Emmys to nominate a series created by a woman. This isn't a deal-breaker, but based purely on probability and precedent, it puts another barrier in Killing Eve's way.
The Case for Killing Eve
It has a female creator and showrunner, as well as two fascinating female protagonists
Yes, I realize this sounds like a contradiction of my previous point. But this year's Emmy Awards will be the first held since the Time's Up movement forced the industry to take a longer, harder look at itself regarding the opportunities it affords to women, people of color, and other traditionally marginalized groups. It's true that the Emmys generally don't nominate dramas run and orchestrated by women, if only because men more frequently serve as showrunners. However, if voters want to send a message about gender inclusion this year, then a show like Killing Eve — which was created and overseen by Waller-Bridge, focuses on women, and has a distinctly feminine sensibility — would be a great one to honor as an outstanding drama nominee.
At least one freshmen series usually gets nominated
Last year, the outstanding drama nominations were overrun with newbies. But even in years when previous nominees dominate, there's usually one fresh entry that breaks into the field. In 2016, it was Mr. Robot. In 2015, it was Better Call Saul. The year before that, it was True Detective, and the year before that, it was House of Cards. You get the idea. There is usually enough desire among Emmy voters to stay ahead of the curve that they'll squeeze at least one first season entry into the category. Although a show like Mindhunter could also fit that bill, I think Killing Eve is most likely to take the new series slot, if room is made for one.
It's short, buzzy, and British
As silly as this may sound, the show's (relatively) brief running time is a plus, because any voters trying to play catch-up could easily binge eight episodes. It's acclaimed, so if Emmy voters have any interest in trying to seem tapped into the Zeitgeist — which, for the record, they haven't always seemed that interested in doing! — that could give Killing Eve an edge. It's also a British series, and Emmy voters have historically shown affection for those. (See all the nominations over the years for Downton Abbey and the previously noted ones for Luther.) Voters may even gravitate toward Killing Eve because they appreciate what a showcase it is for its stars, Sandra Oh and Jodie Comer, both of whom could get nominated for their performances.
Of course, if Killing Eve does land a nomination, one of the front-runners I mentioned earlier will have to get bumped. The TV team at Vanity Fair predicts that Eve will get a nod at the expense of Westworld, which is a plausible scenario. I also think it's quite possible Stranger Things will get edged out to make room for the BBC America hit. Either way, I'm more convinced than not that Killing Eve will be among Emmys' outstanding drama nominees come Thursday. I'm even willing to bet a bottle of poison perfume on it.