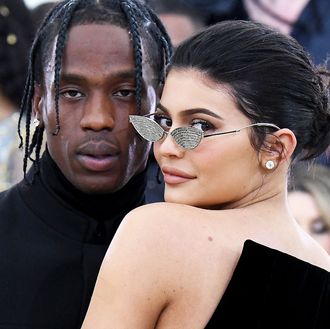 Ah, young millennial love.
Photo: Noam Galai/Getty Images for New York Magazine
Young loves Kylie Jenner and Travis Scott are on the cover of next month's GQ — their first as a couple — spilling all the details of how their whirlwind, year-and-some-change-long romance took shape. At last, they've put to bed the long-standing theory of how they got together by confirming it: Yes, they started dating at Coachella 2017. Except, as Kylie clarifies, "we don't go on dates." They can't quite recall how they met — presumably it was through Kanye — and GQ describes their Coachella dalliance as a "hang that went well," with Kylie apparently telling Travis a totally normal story that got him hooked. And from there the rest is history:
"Coachella was one of the stops on his tour. So he said, 'I'm going back on tour — what do we want to do about this?' Because we obviously liked each other," she says. "And I was like, 'I guess I'm going with you.'" She continues, "I really jumped on the bus. And then we rode off into the sunset. I did the whole tour with him … We weren't going out as 'Kylie and Trav.' We would just be in Cleveland, walking the street for hours. We would go on walks, and no one would bother us."
Travis later adds of Kylie's appeal, beyond the obvious: "Kylie actually likes me for me" and "Kylie is different." And lest you think having a baby in the year since that Coachella "hang" has changed their dynamic, well, you are correct. Travis notes that the birth of their daughter, Stormi, was the last time he cried ("I was there through the hell … the epidural and shit. Crazy"), while Kylie says that not being able to travel with Stormi while Travis is on tour has put on a strain on the couple's relationship. She recalls a teary fight that ended with an impromptu flight to Houston to see him and make up: "It's harder to see each other, but I was like, I just need to go and fix this and go back." By the time she arrived, Travis had had a custom chain made for her with Stormi's name on it. Awwww, you crazy (rich) kids!
And for true love's test, here's Travis answering Kylie trivia like a good social-media hubby.