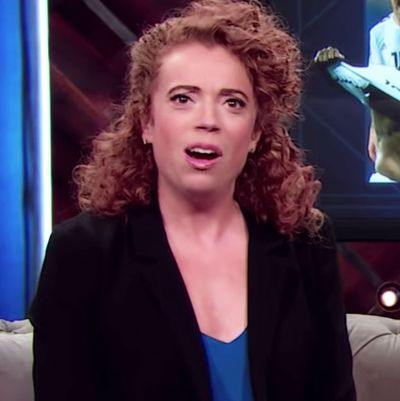 Michelle Wolf and Seth Meyers on
The Break.
Photo: Netflix
When the World Cup happens, America has to hand the talking stick to the rest of the world. Every four years (an interval I had to Google, because I grew up in a country where it is niche knowledge), the U.S. briefly acknowledges that other countries exist and that they have concerns beyond what our president is doing — namely, something we call soccer and they call football or futbal or even more improbably, Fußball. Yet when American talk show hosts talk about footie, the convo is usually still centered around America's apathy toward the sport. Only a handful of the late-night talk shows were on the air this week. Notably, both non-American hosts, James Corden and Trevor Noah, are both off this week. In his London week, Corden joined forces with England's team to try and get American fans. It apparently did not work. Below are the five hottest takes on the U.S.'s coldest interest.
5. Brian Stack saying, "And now on to sport!" on The Late Show
Colbert has mostly stayed on his Trump's-personal-pest beat, spending more time on Scott Pruitt's resignation, the Supreme Court nom, and the ongoing "children in cages" thing than on the sport of hooliganry. The one borderline mention was in the July 10 cold open, in which longtime late-night staple Brian Stack poses as a British news presenter who mistakes Trump for a big, mocking balloon version of himself. At the very end, Stack's presenter (or newscaster, as we say in the States) throws to "sport." The sport is presumably soccer?
4. Conan shining some light on Croatia
Early in the week, Conan commented that the Thai cave rescue was the most Americans had ever cared about a soccer team. Then he had to eat his words, because the Cinderella story of Croatia cannot be denied! The only sports I care about are curling and roller derby, and even I was on the edge of my seat when they beat Russia on Saturday. "It's the first time in a while I've heard people say, 'Way to go, Croatia!'" Conan remarked. Can you let them have this, Coco? Croatia has never won a World Cup, which is only slightly mitigated by the fact that it hasn't been a country that long. The only reason this is going above Colbert's outright rejection of soccer is that a neg is slightly better than complete indifference.
3. Aisha Tyler's Unapologetic take on World Cup sexism
Unapologetic, AMC's Dietland aftershow/current-events hybrid gathered Charlize Theron, Marti Noxon, and Roxane Gay to discuss both Dietland episode six and whether sports culture is inherently also rape culture. The best part was the juxtaposition of a female soccer player shrugging off an injury and a male player's histrionic attempt at getting a penalty kick. If you want to see hot guys cry competitively, your best bet is either The Bachelorette or the World Cup.
2. Jimmy Kimmel's World Cup pedestrian question: "Are you drunk?"
It's not surprising that Kimmel has spent the most time on the World Cup, as he is generally the most sport-inclined of the current crop of late-night hosts. First Jimmy notes that all the Croatian players' last names end in -itch. Yeah no doy. The -vich suffix means "son of," and hella people's last names end in -son. Although England lost its match against the ich-y hoards of Croatia, Kimmel went to a faux-British pub in Studio City to see how many people were drunk at 11 a.m., including Office co-creator Stephen Merchant and Bachelor in Paradise garbage person Chad Johnson.
1. Michelle Wolf asks hot soccer players, "How dare you?"
Leave it to Michelle Wolf to have the newest take: that soccer is a primo ogle sport. Western society tends to care even less about the female gaze than Americans care about soccer. But apparently there are some fine-looking fellas hiding in all that bro-y content. "Soccer is supposed to be a sport, not porn made specifically for me," she shrieks into the camera. "Is this the FIFA World Cup or the FIFA Michelle Jerks Off So Many Times She Can't See Straight?"