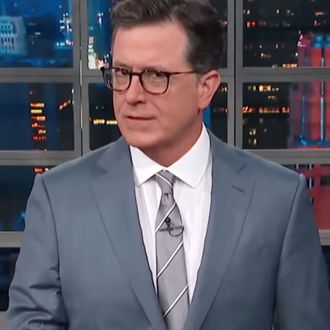 Stephen Colbert reacts to the Trump–Putin summit.
Photo: CBS
Donald Trump's visit with Russian president Vladimir Putin left many speechless, but late-night hosts across the country couldn't help but comment on the absurdity last night. The president spent two hours in a private meeting with his Russian counterpart then came out to a press conference where the absurdity only escalated. Late-night hosts had a lot to say about Trump's outright dismissal of U.S. intelligence agencies, his respect for Putin, and the soccer ball he got as a parting gift. It's a lot to keep up with, so we created a roundup of highlights from last night.
The Late Show With Stephen Colbert
Stephen Colbert came out swinging on last night's episode of The Late Show With Stephen Colbert. He opened the show with a "Let's All Go to the Summit" animated song including the lyrics "That was beyond all reason / And pretty close to treason." In the second half of his "Double Stuf Oreo" monologue, Colbert added up "naïveté, egotism, false equivalence, and sympathy for autocrats" to get "Yeah, it's treason."
Unfortunately, Colbert also doubled down on a homophobic joke about Trump and Putin having a sexual relationship. In response to Trump asking where the server is that Russians hacked, Colbert said, "We know where the server is. He's standing right next to the master. It's role-playing. They have a safe word: pumpkin patch." Not only did Colbert make this joke a day after the New York Times was called out for a similar punch line, but he has already been under fire for this a year ago.
Jimmy Kimmel Live
"Helsinki has frozen over" reported Jimmy Kimmel. Unlike Trump, this late-night host doesn't trust Putin one bit, begging the question of whether or not Putin brought a hypnotist to the meeting. Nope, that's just our president. Kimmel was especially amused by the wink Trump gave the Russian president and former KGB agent, saying "that's the 'thanks for keeping that tape between us guys' wink."
The Tonight Show Starring Jimmy Fallon
On the opposite side of the country, late night's other Jimmy from The Tonight Show totally understood why Trump was nervous for his sit-down with Putin. "Most people are nervous when meeting their boss," Fallon shrugged. Besides, the two men likely spent the entire two hours "trying to make sure the other guy wasn't Sacha Baron Cohen."
The Daily Show With Trevor Noah
To put all of this in context, The Daily Show's Trevor Noah reminded everyone that just four days ago, Robert Mueller charged 12 Russian agents with hacking the 2016 election. The news was so big, Noah said, "that it sent Cardi B into labor." (The rapper actually gave birth to a baby girl, Kulture, three days earlier, on July 10.) Trump's reverence to the Russian president throughout the press conference worried Noah. "On the list of people not to trust, Putin is right in between WebMD and the mom from Get Out," he joked. But, he finished up with "that's what you get when you put a KGB agent up against a KFC agent."
Late Night With Seth Meyers
On Late Night, Seth Meyers tackled Trump's European trip with a little more levity. He remarked that Trump acts like a kid at Disneyland meeting Mickey Mouse when meeting Putin. Even Putin treats him like a "12-year-old," gifting him a soccer ball in honor of the World Cup. But let's be real, Meyers joked: "The only way Trump would ever get near a soccer pitch is if he could stay in his golf cart."