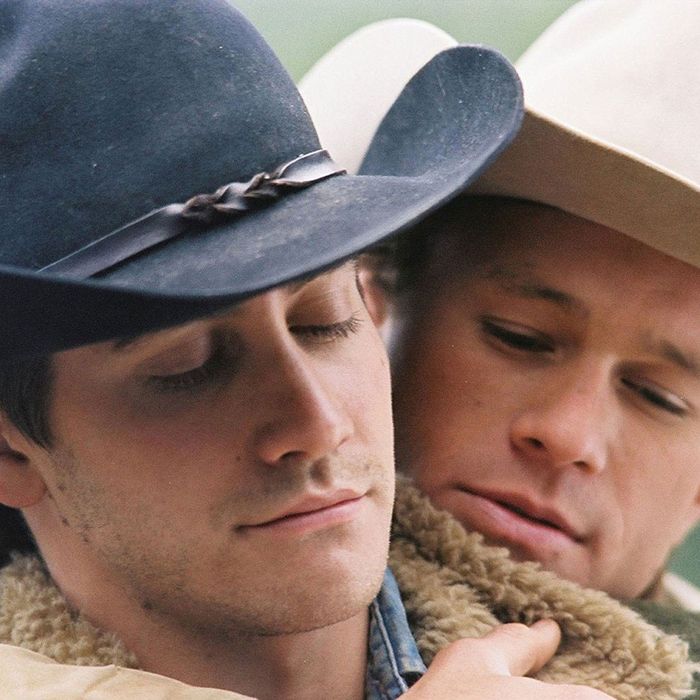 Each month, several films leave Hulu's library. We provide a list of departing titles and recommend a few standouts so you can watch them before they're gone forever (or are just available on a different site). For more coverage of the best titles available on Hulu, including our top picks from last month and updates on what's new on Hulu this month, check out Vulture's What to Stream Now hub.
Leaving August 31
If you're still not over Crash winning an Oscar: Brokeback Mountain
There's little that Ang Lee's acclaimed movie about two men who fall in love in the mountains of Wyoming does that isn't excellent. With Heath Ledger and Jake Gyllenhaal as Ennis Del Mar and Jack Twist, two ranch hands who meet on a shepherding job, the film follows the pair across 20 years as their friendship turns into a love kept secret, while they both marry women and build lives to hide their relationship. Anchored by Lee's boundlessly humane direction, a score by the brilliant Gustavo Santaolalla, and cinematography by Rodrigo Prieto, Brokeback Mountain is a classic worth revisiting before it leaves Hulu for other streaming pastures. Leaving August 31.
Leaving August 31
For some cult-classic space horror: Event Horizon
Director Paul W.S. Anderson has built an incredibly successful career making movies based on video games that you can largely ignore, but there was a blip in his career—between the runaway success of Mortal Kombat and the early-aughts kitsch of Resident Evil—where Anderson looked like he was going to be a director of promising, big-budget sci-fi. Event Horizon was his first film following Mortal Kombat, and it's a doozy: a space-horror film about a ship testing out a new form of faster-than-light travel that disappeared, only to reappear seven years later with a new life form possibly onboard. The movies was largely compromised by the studio and was a failure both critically and commercially at the time, but Event Horizon is the stuff of cult legend — a strange film with enormous curiosity and great scares that, over the years, finally found an audience. Check it out for foreboding Sam Neill and Laurence Fishburne performances, moderately dated special effects, and genuinely creepy vibes. Leaving August 31.
New on Netflix: Movies
Leaving August 31
• 1492: Conquest of Paradise (1992)
• 2 Days in the Valley (1996)
• 52 Pick-Up (1986)
• A Beautiful Mind (2001)
• A Guy Thing (2003)
• Across the Universe (2007)
• Analyze That (2002)
• Analyze This (1999)
• Baby Mama (2008)
• Bad Influence (1990)
• Barnyard (2006)
• Beer for my Horse (2008)
• Blue Like Jazz (2012)
• Bowfinger (1999)
• Brokeback Mountain (2005)
• The Brothers Grimm (2005)
• The Burbs (1989)
• Chinese Box (1997)
• Clue (1985)
• Criminal Law (1989)
• Dead Man Walking (1995)
• Doctor Dolittle (1997)
• Drive Me Crazy (1999)
• Drop Zone (1994)
• East Is East (1999)
• End of Days (1999)
• Escape From Alcatraz (1979)
• Event Horizon (1997)
• Fatal Instinct (1993)
• The Frozen Ground (2013)
• Hard Rain (1998)
• Hellboy (2004)
• Hot Boyz (2000)
• House of D (2005)
• Immigration Tango (2011)
• Into the West (2005)
• Men With Brooms (2002)
• Mindhunters (2004)
• Mr. Majestyk (1974)
• Mutant Species (1995)
• My Left Foot (1989)
• Nanny McPhee (2006)
• Nurse 3D (2014)
• Over the Top (1987)
• Panic (2000)
• Prancer (1989)
• Primal Fear (1996)
• Rain Man (1988)
• Remember the Goal (2016)
• Restoration (2016)
• Revenge of the Pink Panther (1978)
• Spawn (1997)
• Sweeney Todd: The Demon Barber of Fleet Street (2007)
• Tamara (2006)
• Trainspotting (1996)
• You Don't Mess With the Zohan (2008)
For more coverage of the best movies and TV shows available on HBO, Amazon Prime, Showtime and Hulu, check out Vulture's What to Stream Now hub, which is updated throughout the month.