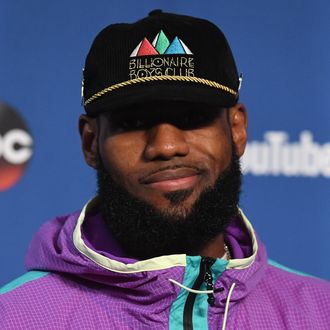 LeBron James.
Photo: Jason Miller/Getty Images
You all saw Trainwreck. If LeBron James wants to be a comedy star, it's over for you bitches. He's going to treat modern cinematic comedy like the court and absolutely dominate it. And now that LeBron's physically so much closer to where more movies are made, it's apparently game on. According to Variety, LeBron James will produce and potentially star in a comedy to be penned by The Boss screenwriter Steve Mallory. James's SpringHill Entertainment has reportedly sold the unnamed film to Paramount Players.
Now, while Variety has no details about the content of the movie in their report, the url for their story does contain the holy words "body swapping comedy." Honestly, all you comedic actors better pray to whatever clown god you believe in that LeBron is too exhausted from winning championships to really focus on film. Otherwise, again, and this cannot be stressed enough, it's over for you bitches.