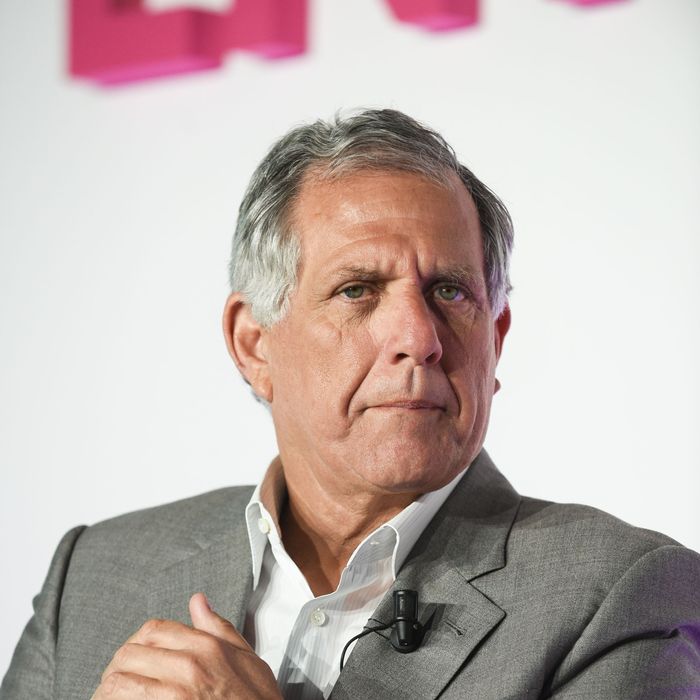 Photo: Antoine Antoniol/Getty Images
CBS chairman Leslie Moonves, the TV industry titan whose instincts helped shape what the world watched for a quarter-century, now finds himself fighting for his corporate survival. In Friday's New Yorker exposé, Ronan Farrow outlined a half-dozen sexual harassment and assault charges against Moonves, putting names and faces to what had been months — some would say years — of speculation swirling around the Eye network executive. The specifics of The New Yorker story, particularly the graphic allegation of Moonves sexually assaulting actor Illeana Douglas, have left CBS insiders "in shock," as one company employee put it, and girding for what comes next. Across Hollywood, meanwhile, the questions of the moment are whether Moonves will hang on to his job and what happens to CBS if he doesn't.
The most immediate threat to Moonves's tenure at CBS could come from the company's board of directors. According to The Wall Street Journal, the board over the weekend began discussing the possibility of forcing Moonves to temporarily step down while an independent investigation into his actions and the overall culture at CBS takes place. (Deadline Monday recast that speculation by reporting Moonves was now "contemplating" a hiatus from the company.) The board is scheduled to hold a conference call today and is also working on naming a special committee to supervise the investigation, the Journal said. If the investigation corroborates what The New Yorker reported, or uncovers even more evidence of wrongdoing, it would increase the likelihood (though not guarantee) the board would terminate Moonves. The investigation will likely take weeks to complete, however, and in the interim, other circumstances could result in Moonves permanently exiting CBS much sooner.
While Farrow's reporting paints a damning and comprehensive picture, it's possible that even more women could come forward to accuse Moonves in the wake of The New Yorker story — a scenario that has played out with other cases in the #MeToo era. (Former U.S. senator Al Franken, for example, initially seemed likely to retain his post but ultimately resigned when accusations began to pile up.) Moonves could also simply decide to step down before an investigation gets underway, deciding not to put himself or CBS through weeks of negative publicity. To be sure, Moonves's statement Friday that he "never misused my position to harm or hinder anyone's career" — and his reputation as a fighter — give little reason to suggest he would voluntarily resign. So much of his personal and professional identity revolves around being the head of CBS, such a move seems hard to imagine among those who know him well. And yet, because Moonves cares so much about the company — and his long-term legacy as an iconic figure in TV history — there's a case to be made that a quick resignation would be the most effective way of at least partially protecting both. Moonves stepping down would not end the board's investigation, of course, since that inquest is expected to look into broader issues regarding the CBS culture, particularly its news division. (Farrow's exposé also focused on allegations against 60 Minutes executive producer Jeff Fager, while journalists Mo Ryan and Melanie McFarland have chronicled a series of sexual-harassment allegations against former NCIS showrunner Brad Kern.) But if he did, it would allow CBS to begin regrouping and moving forward into its post-Moonves future.
As for how CBS after Moonves would change, "he is so institutional there, it's hard to think of CBS without Les," one veteran television agent told me Sunday night, calling him "an icon." The most immediate effect of a Moonves ouster or resignation could be the end of an ongoing court battle against National Amusements president Shari Redstone, who's been battling Moonves over her desire to reunite CBS with its estranged sibling company, Viacom (owner of MTV, Nickelodeon, and Paramount Pictures). Without Moonves around to lead the charge against Redstone's plans, CBS "will probably be subsumed into the Viacom empire and then sold to a phone company, probably," the agent predicted, echoing what other industry insiders have been saying since Friday.
Day-to-day life at CBS's main holdings — the broadcast network, Showtime, and streamer CBS All Access — wouldn't necessarily change dramatically post-Moonves, at least in the short term. Yes, Moonves remains an active participant in programming decisions at his various units, particularly CBS. Industry insiders suggest he still reads drafts of episodic scripts and weighs in on some casting, something counterparts such as Disney's Robert Iger are not known to do with any frequency. CBS executives I've talked to over the years haven't viewed this as micromanaging, but rather as an asset for the company. But whatever Moonves's contribution — and The New Yorker article suggests his influence on casting decisions was not always a good thing — top managers such as CBS Entertainment president Kelly Kahl and development chief Thom Sherman, along with Showtime boss David Nevins, have enough collective experience to keep their respective programming pipelines flowing. "You don't get to be a very strong media organization in this environment on the back of just one person," financial analyst Barton Crockett told CNBC last week, per The Hollywood Reporter. "Strong media organizations … have been able to withstand these type of transitions, because they have multiple people who are executing, and I think that's what you have at CBS."
There is even an argument to be made that the CBS broadcast network might benefit from not having Moonves calling so many of the major shots when it comes to what kinds of programs to pursue and how much to stray from the Eye's middle-of-the-road formula. As successful as that formula has been at keeping CBS the most-watched network for the better part of a decade, the network under Moonves has defined its programming brand very narrowly. What's worked in the past might not cut it as TV continues to move into the streaming era.
For the TV industry as a whole, meanwhile, a Moonves exit would unquestionably be a major cultural shift. The man New York Magazine once dubbed "Mr. TV" has been the living, breathing embodiment of network TV — its public face — for two decades now, filling a role played in past eras by the likes of Warren Littlefield, Brandon Tartikoff, Fred Silverman, and William S. Paley. His exit would carry with it all sorts of symbolism, especially as an example of a powerful man being held accountable for his alleged actions. But as a practical matter, one top agent argues that Moonves leaving CBS wouldn't change much because the TV industry today isn't focused on broadcast networks. Broadcast TV still makes lots of money and has a slew of shows which attract a sizable audience, but in 2018, "We are on to Apple, Netflix, Amazon, Hulu, Disney/Fox, Facebook, Google," the agent said. With or without Moonves at the helm, "CBS is simply not relevant to most of Hollywood."