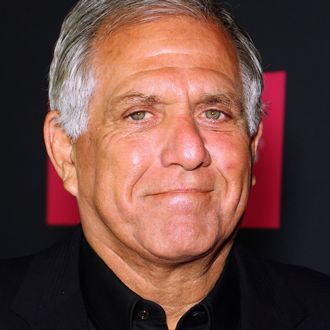 Leslie Moonves.
Photo: Gabe Ginsberg/Getty Images
CBS announced Friday that it would investigate company chairman and CEO Leslie Moonves ahead of a New Yorker exposé by Ronan Farrow. The magazine's long-rumored investigation reportedly includes accusations that Moonves kissed and touched people without their consent 20 years ago, according to The Hollywood Reporter, and it is expected to be published as soon as Friday afternoon.
"All allegations of personal misconduct are to be taken seriously," the network's board of directors said in a statement. "The Independent Directors of CBS have committed to investigating claims that violate the Company's clear policies in that regard. Upon the conclusion of that investigation, which involves recently reported allegations that go back several decades, the Board will promptly review the findings and take appropriate action."
Moonves, one of the most powerful men in Hollywood, joined CBS in July 1995 as president of CBS Entertainment and became the company's chairman in February 2016. CBS is currently locked in litigation with Shari Redstone, the controlling shareholder in both CBS and Viacom. Redstone wants to merge CBS and Viacom (and potentially sell the combined corporation); CBS has filed suits against Redstone and tried to dilute her stake in the company.
"The timing of this report comes in the midst of the Company's very public legal dispute," the CBS statement said. "While that litigation process continues, the CBS management team has the full support of the independent board members. Along with that team, we will continue to focus on creating value for our shareowners."
As news of The New Yorker's forthcoming report circulated, CNN reported that CBS stock fell about six percent. Farrow himself Tweeted that he doesn't comment on reported that hasn't been published "and if you're reading about my work from secondary sources you're often not getting the full or correct story—especially in cases where parties have an interest in downplaying or otherwise spinning."