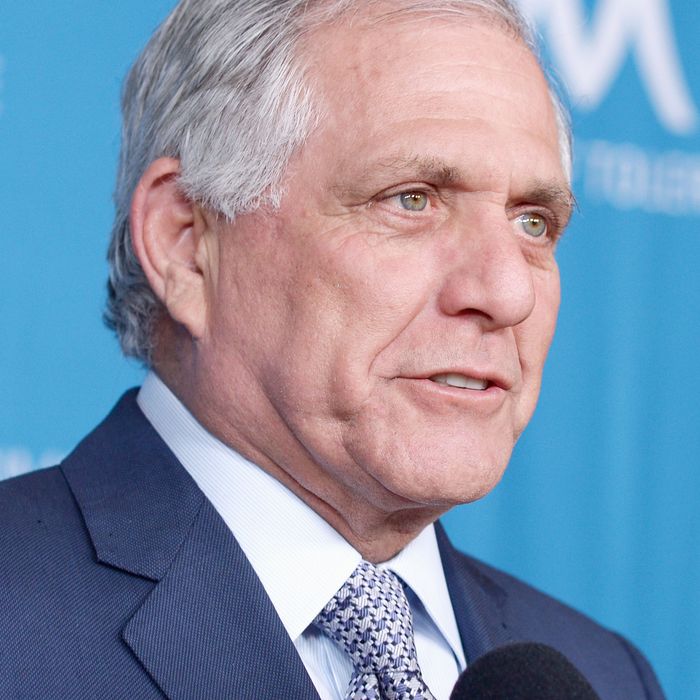 Les Moonves.
Photo: Tara Ziemba/Getty Images
After preliminary reports led CBS to announce an investigation into its chairman and CEO, Leslie Moonves, the rumored New Yorker story about his alleged sexual harassment has been published. In Ronan Farrow's report, six women who worked with Moonves between the 1980s and the early aughts claim that he sexually harassed them. Four say that he forcibly touched or kissed them during business meetings, while two say he physically intimidated them or threatened to derail their careers. All of them claim that their careers suffered after they rejected his advances, and that his actions represented what they believed to be a pattern of behavior.
The report includes allegations against other CBS employees, and claims Moonves's actions fostered harassment across the company, whether or not he was aware of it. At CBS News, home to Charlie Rose before dozens of women accused him of harassment, 19 employees claimed that former chairman and current 60 Minutes executive producer Jeff Fager allowed harassment within his division. Fager denied this and told The New Yorker, "It is wrong that our culture can be falsely defined by a few people with an axe to grind who are using an important movement as a weapon to get even, and not by the hundreds of women and men that have thrived, both personally and professionally, at 60 Minutes."
"Throughout my time at CBS, we have promoted a culture of respect and opportunity for all employees, and have consistently found success elevating women to top executive positions across our company," Moonves told Farrow in a statement. "I recognize that there were times decades ago when I may have made some women uncomfortable by making advances. Those were mistakes, and I regret them immensely. But I always understood and respected — and abided by the principle — that 'no' means 'no,' and I have never misused my position to harm or hinder anyone's career. This is a time when we all are appropriately focused on how we help improve our society, and we at CBS are committed to being part of the solution."
The report comes as CBS is in public litigation with Shari Redstone, the controlling shareholder in both CBS and Viacom, over her plans to merge CBS and Viacom (and potentially sell the combined corporation). "The timing of this report comes in the midst of the company's very public legal dispute," CBS said in a statement. "While that litigation process continues, the CBS management team has the full support of the independent board members. Along with that team, we will continue to focus on creating value for our shareowners."
Update: Actress Illeana Douglas is one of the six women who allege Moonves sexually harassed and retaliated against them professionally, reportedly firing her from a CBS pilot entitled Queens in the late '90s. Douglas issued a statement through her representative on Friday evening:
Real change will occur when victims of sexual assaults are not stigmatized as whistle blowers, or people with some kind of agenda for coming forward. 




Real change will occur when opportunities to work at companies where assaults have occurred are no longer condoned.  




Speaking for myself, real change will occur when I can walk through the front doors of CBS and resume the creative and working relationship that was so tragically cut short in 1997.