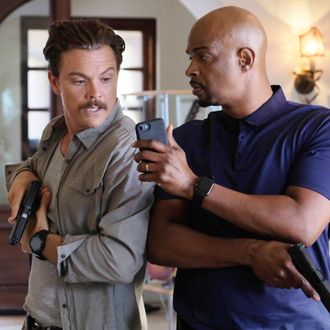 Clayne Crawford and Damon Wayans.
Photo: Darren Michaels/FOX/Fox Broadcasting Co.
Following the surprisingly high amount of drama that plagued Fox's Lethal Weapon in the spring — lethal drama, if you will, which ultimately resulted in co-star Clayne Crawford fired for toxic on-set behavior — we're finally privy to what to expect with the show's third season. Per intel from Deadline, Crawford's replacement Seann William Scott will not be playing a new Riggs family member alongside Damon Wayans' Roger Murtaugh, but will rather be a "war veteran and a father" named Wesley Cole who returns to Los Angeles after a decade in the hope of reconnecting with his family. His ex-girlfriend (Psych's Maggie Lawson) is an emergency room surgeon in the city — the two met "in an active war zone years earlier, where Natalie served as a medic, and had a brief romance that resulted in a child." How Cole and Murtaugh meet up and become partners, well, we'll just have to wait and see.
Upon the announcement in May that Lethal Weapon was renewed for a third season with Scott attached as his replacement, Crawford, very diplomatically, sent his congratulations to the show's cast and crew. "Riggs was a dream role and the experience will live with me forever. My heart is full," he wrote on Instagram. "Good luck next season!" Crawford previously admitted that reports of his bad on-set behavior were true, with many of those instances involving Wayans.