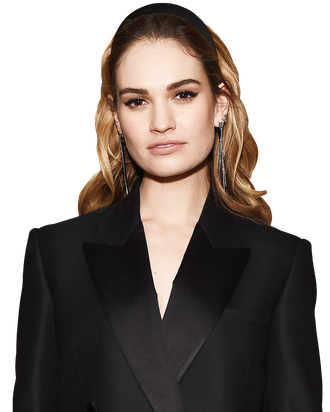 Lily James.
Photo: Getty Images
Many have attempted to share the screen with Meryl Streep, but only a few have tried to live up to playing a younger version of her. In Mamma Mia! Here We Go Again, a beachy, sugary cocktail disguised as a summer movie, Lily James had to do just that, playing the younger version of Streep's Donna Sheridan in a series of flashbacks that explain just how she ended up living on a Greek island — and sleeping with three men in a row without knowing who ended up being the father of her daughter. For the role, James, who started her career off on the very English Downton Abbey and Cinderella, slips into an American accent, a pair of overalls, and more than a few classic, and not so familiar, ABBA songs. Vulture caught up with her to talk about trying to live up to Meryl's work, getting advice from Christine Baranski, and her surprising voice cameo in Sorry to Bother You.
It must be pretty intimidating to have to play a young version of Meryl Streep, since she is, you know, Meryl Streep. How did you find a way into playing the young Donna?
Yeah. Obviously it was very daunting, and part of me thought, Oh God, I don't know if I can do this. But then I watched Mamma Mia! and reminded myself I'm playing young Donna Sheridan, not a young Meryl Streep. Meryl Streep, who's one of the greatest actresses of all time, had created Donna Sheridan, and so therefore I had this whole world of inspiration, and character to draw on, and to try and bottle and capture and study that essence of what made Donna this fearless, ballsy, brilliant woman — try to pick a few characteristics, or expressions, or a physicality that would make the watcher hopefully believe that my version of Donna would grow into hers.
You had to wear the same overalls, which would help.
Getting into the overalls was probably the moment where I was like, Oh, my God. Meryl does this funny little leg pop [in the overalls], and she does this mad little dance. I watched it over and over and over.
The movie's finale is so outrageous, because everyone sings "Super Trouper" together — you, Meryl, Cher, the new and old cast. What was that like?
Everywhere you look there were these movie legends, and it was very overwhelming. Not to mention the fact that I danced with Meryl, which that's something that only happens in your wildest dreams. We were all wearing these ridiculous costumes, and there was fireworks, and there was smoke, and there was glitter. It was so mad.
What was it like to have that group of young people together shooting the movie?
It was wild. There was the six of us on an island in Croatia for six weeks in the sunshine. It was the best summer holiday you could dream of, and we've all become so close, and they're all so talented. It wasn't like work. If you ask Colin, or Stellan, or Pierce, or any of them, they all say that it was one of the happiest jobs they've ever done. Even Bob Yeoman, the director of photography who's worked on all Wes Anderson films.
In your opinion, which pair of new and original cast members had the best match of personalities?
I'd say that Christine Baranski and Jessica Keenan Wynn, the Tanyas … that was mad casting. Christine did Broadway and Jess is a Broadway baby, and there's a mad similarity between how they walk, and their whole aura. Christine is so supportive. She used to sneak into rehearsals, and she would watch us. She was like, "You girls are killing it. You're all perfect. Go for it." She gave us a seal of approval, which really meant the world to us.
I would be too intimidated to do anything in front of Christine Baranski, so I'm very impressed.
Just the other day, I was watching The Birdcage with Robin Williams, and she's amazing. In Mamma Mia!, both in this one and in the first one, where she does that split kick, she's got the most banging legs you've ever seen, and is more flexible, and more nimble, and better at dancing than anyone else. It's the iconic moment of both films.
In Sorry to Bother You, you provided Tessa Thompson's white voice. How did that come about?
I worked with Tessa Thompson on a movie called Little Woods, and we played foster sisters in that. I think Tessa is an outstanding actor, and beyond that, person. She has this whole energy moving through life. It's inspiring. She emailed me, "Hey, do you wanna do this thing?" Then I read the script, and I thought it was really important, a story that I was really keen to be a part of, even in this mad way. I'm really looking forward to seeing how it all panned out. I haven't seen it yet.
You're also in The Guernsey Literary and Potato Peel Pie Society this summer. Between that and Mamma Mia! Here We Go Again, you've staked out a claim for doing movies with the longest possible title.
[Laughs politely.] Guernsey — literally, I still can't get the title right. I think in another territory, they called it Dear Juliet, and I was like, there we go. There's a snappy title. But it's really charming, it's about reading. It's centered around a book club, and how book clubs have the power to transport you. It's an English romantic drama at its most quirkiest and best.
I think of you as being in so many very English projects like Downton or Cinderella, but in Mamma Mia! you're playing an American. What is the secret to doing an American accent?
My father was American, and my grandmother, so it feels a part of myself. But at the same time, I worked with an amazing dialect coach called Jill McCullough, and she drills you. I stayed in the accent the whole time. I really liked being American.
Does doing the accent change your persona?
I think there's a whole different energy. With each accent comes a physicality, and American has this driving through to the end of a sentence. Maybe that was just Donna, specifically.
Speaking of very British projects, you're attached to a Danny Boyle and Richard Curtis comedy about music, but I don't know if it's necessarily a musical?
It's not a musical, but it's centered around the Beatles' music, and imagining a world where there's only one person left on the planet that can remember the Beatles, which would be a sad place. Not a world I'd want to live in.
This interview has been edited and condensed.