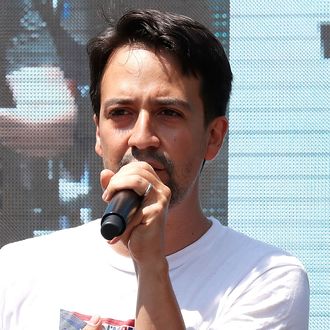 Lin-Manuel Miranda.
Photo: Paul Morigi/Getty Images for MoveOn.org
On Sunday, America's sweetest dad Lin-Manuel Miranda took his unflagging optimism to the next level, touching down in a Puerto Rico still struggling to recover from Hurricane Maria and announcing a multi-million dollar fund to help the island's artists and arts organizations.
"As someone whose life has been transformed by the power of the arts, and who has witnessed the incredible healing, growth, stability, and well-being that cultural institutions can bring to local communities, I cannot stand idly by and watch Puerto Rico's arts and culture scene suffer," said the Hamilton creator. "And that is exactly why we have created the Flamboyan Arts Fund." So far the fund has five recipients, including a theater company and a dance school, and Miranda says he's working toward a funding goal of $15 million for the future.
Puerto Rico continues to slowly recover from the hurricane, which devastated the island in late September of last year. Miranda also pledged the proceeds from the upcoming Puerto Rican run of Hamilton, which makes its debut at University of Puerto Rico's main campus in January 2019, with Miranda back in the starring role. He tweeted about the announcement on Sunday, "No shortage of bad news. But also no shortage of ways to do some good."