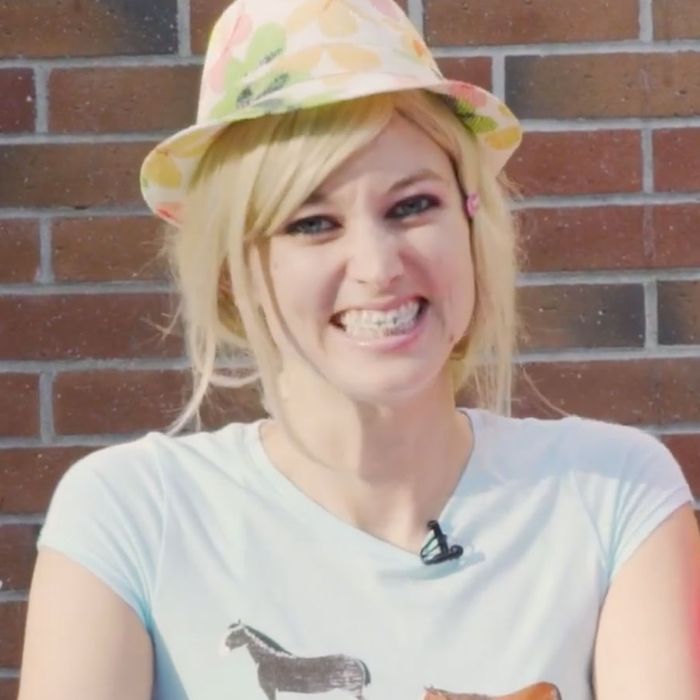 Photo: YouTube/Middle School Talent Show
Vice wrote an article last year called "Inside the Phenomenon of Grown Adults Playing Teenagers on TV." The piece reveals the actual ages of actors like Blake Lively (who played a high-school junior on Gossip Girl when she was 20) and Cory Monteith (who played a high-school sophomore on Glee when he was 27 — 27!). While strangely satisfying to see talents' actual ages pegged to characters who were supposed to be so much younger, we kind of always knew Hollywood had a habit of casting full-on adults to play high-schoolers.
Less often discussed are cases of adult actors imitating young kids — like, middle-school-aged and below — in comedies. Think Michael McDonald's Stuart on MADtv, or Vanessa Bayer's Jacob on SNL. Highbrow it is not, but it's almost always very funny. Something about seeing talented, mature people dutifully take on the persona of a child they could never believably play is magical.
Why? It's so first thought, so base, so … one step left of a sideshow. What about it tickles (gross) us? I'm really not sure. Even still, we thought it necessary to share some breakout performances in creator Lizzy McGroder's new series, Middle School Talent Show, where the best episodes are absolutely those in which 20-somethings play seventh- and eighth-graders.
With that, please delight in three of our favorite installments.
"GARETH," written by Gabe Greenspan
Gareth (Gabe Greenspan) is a 15-year-old eighth-grader. He didn't just complete the fourth grade two times, no no. He also learned some sweet guitar riffs and a respectable appreciation for piety, blue hair be damned. What begins as a trite introduction to an even more trite character archetype blossoms once Greenspan's considerable acting chops are in full rotation.
"AMANDA AND ASHLEY," written by Lizzy McGroder
Ashley (Hannah Pilkes) and Amanda (McGroder) take a decidedly less solemn tack in their installment, but in some fleeting moments, we actually believe they're children. I mean that to sound as terrifying as I do congratulatory. From a writing and timing perspective, the series is probably sharpest here.
"REDVINES," written by Dylan McCollum
Dylan McCollum plays a stage tech eighth-grader who's so relatable it makes me sad. Beyond McCollum's pitch-perfect performance, he brings it on the page. As a director, McGroder captures the style of an actual slice-of-life doc with a certain deftness — from the sparsely lit sound booth to the artsy B-roll, like the depressing little insert of Redvines pressing a lighting-board button with his namesake candy.
Luke is executive producer at Big Breakfast and a watcher of many web videos. Send him yours @LKellyClyne.