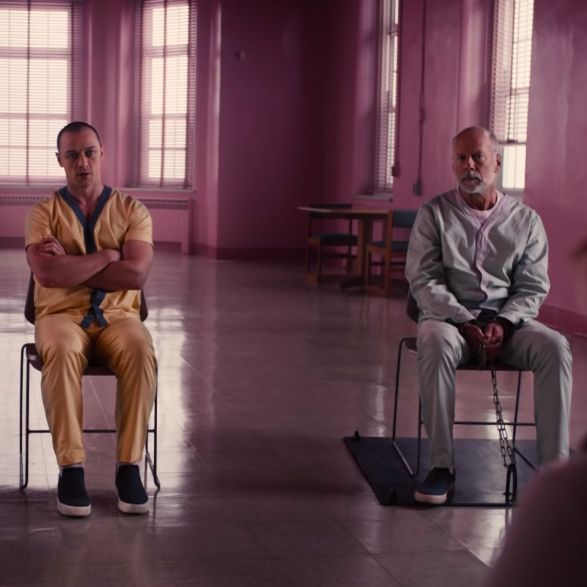 James McAvoy and Bruce Willis in Glass.
Heading into this year's San Diego Comic-Con, M. Night Shyamalan's Glass stood out from the packed convention roster as one of its buzziest movie entries: the third installment of the writer-director's deconstructed superhero trilogy that throws the (respectively) indestructible and extremely physically fragile characters played by Bruce Willis and Samuel L. Jackson in 2000's Unbreakable, into dynamic confrontation with James McAvoy's character from the 2016 surprise Unbreakable sequel Split, a guy with 24 different personalities and occasional superhuman strength.
Easy enough to forget that just a few short years ago, Shyamalan was essentially in director's jail, having put out a string of disastrously reviewed flops. Among them: the self-indulgent fantasy-drama The Lady in the Water, a widely decried "race-bending" adaptation of Nickelodeon's The Last Airbender and the Will and Jaden Smith sci-fi failure After Earth. But in 2015, with most industry observers having already counted the filmmaker out, Shyamalan managed to turn his fortunes around by going the low budget route, first with The Visit, a $5 million found footage horror flick with no bankable stars that managed to take in more than $65 million at the box office. Then came Split, a $9 million genre romp featuring McAvoy's dissociative identity disorder-suffering serial killer character chewing his way through the scenery that pulled in $278 million worldwide.
Less than an hour before heading into the San Diego convention center's cavernous Hall H — where the first trailer from Glass arrived to rapturous applause by the Comic-Con masses Friday — Shyamalan spoke to Vulture about the larger philosophical questions that underpin Glass but also the journey he's been on these last few years.
He began envisioning a new Unbreakable film — which he describes as "a real strong fusion between a thriller and a comic book movie" — as a kind of riposte to Unbreakable's lackluster reception by audiences and critics 18 years ago. But it wasn't until Willis's surprise cameo at the end of Split alerted audiences the two films occupy the same cinematic universe that the heavy gears of Hollywood started turning to be able to make the new film happen. Disney, which owns the rights to Unbreakable, agreed to team up with Universal, distributor of Split, in a nearly unprecedented deal between rival studio to jointly release Glass.
The first trailer features Willis' security guard-turned-clandestine crime fighter David Dunn, Jackson's terrorist/intellectual supervillain Mr. Glass and McAoy's Kevin Crumb in a mental institution where Sarah Paulson in a psychiatrist role questions the men about their "delusions of grandeur." That plot line, according to Shyamalan, is key to understanding the movie. "Is belief in one's self a tenuous thing?" the director says. "Even if we can do extraordinary things, is it something that we're interpreting when we do that? Or are some people special? The movie is really about doubt versus belief. Every scene has that weight to it. That struggle is there."
Those questions certainly inform what will eventually make its way to the screen (Glass arrives in theaters in January 2019) but also go a long way toward illuminating how the filmmaker considers himself and his cinematic output. Asked how he felt to be "derided" earlier in his career, on the way to creating what is now one of Hollywood's most hyped franchises, Shyamalan did not demure and spoke openly about both his career highs and lows.
"I've been super-lucky," he says. "I've made, what, 12 movies? The first two, nobody saw them. The Sixth Sense is my third movie. And it's just been an incredible ride. I think in terms of my original thrillers — the stuff that came from me — I've been so lucky with the response to those. Being able to try to do children's films, other films in other genres, for other people and in other ways, that's important for growth. For me as a filmmaker to go, 'Hey, these are my strengths, these are my weaknesses. These are the kinds of systems I do best in.' And for me, for sure, the contained thriller is my sweet spot, where I feel the best."
"The metaphor is, I can run my offense better," Shyamalan continues. "The best version of me can come out; it's small, the stakes are low. I can try to iterate and take chances. So it's been a really lucky journey for me. These last three movies — The Visit and Split and now Glass — have been this beautiful way of going back to the way of what I was doing."