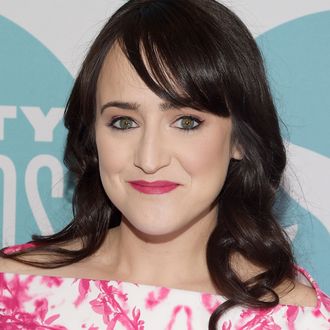 Mara Wilson.
Photo: Jason Kempin/Getty Images
Could the saga of the anti-abortion Roe v. Wade movie get any more bizarre? The latest update comes from Matilda star Mara Wilson, who says that she was approached to play the part of Betty Friedan in the Nick Loeb–directed movie. (Tomi Lahren and Milo Yiannopoulos have cameos.) "A few weeks ago, I was offered a part in a movie called 1973, also known as Roe v. Wade," Wilson wrote in a new essay for Elle, in which she recalls meeting actress/NXIVM sex-cult recruiter Allison Mack. Mack doesn't seem to have any involvement in the Roe v. Wade movie, but Wilson recalled the incident as she considered how child stars can be attracted to the structured environments of cults or hyperconservative groups.
Wilson said she turned down the movie, but described the script: "It was written from a distinctly anti-abortion and anti-choice point of view, and was being produced and bankrolled by socially conservative activists. They wanted me to play famous feminist Betty Friedan, who was not portrayed in a flattering light — and was at the time, twenty years older than I am now. The script was poorly written, and the cast list seemed to me like a who's who of former '80s and '90s stars." Somehow, the Roe v. Wade movie continues to chug along.