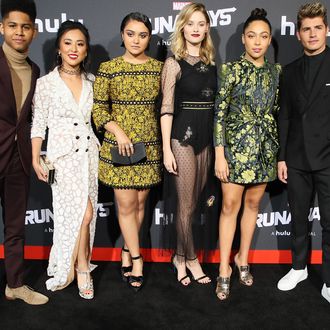 Photo: David Livingston/Getty Images
The Hulu original series Marvel's Runaways will air on Freeform for the first time on August 2. Deadline is reporting that the first episode of the series will make its broadcast television debut after the season finale of the network's only other Marvel show, Cloak and Dagger. The move is not a permanent change, however. As of now, only the first episode is set to air as part of a marketing partnership between Hulu and Freeform.
Another notable aspect of the move is the approval of Disney's acquisition of Fox, which includes its 30 percent ownership stake in Hulu. The show follows six teenagers who may not get along, but "who must unite against a common foe: their parents." Because you know what they say, you gotta fight for your right to party.