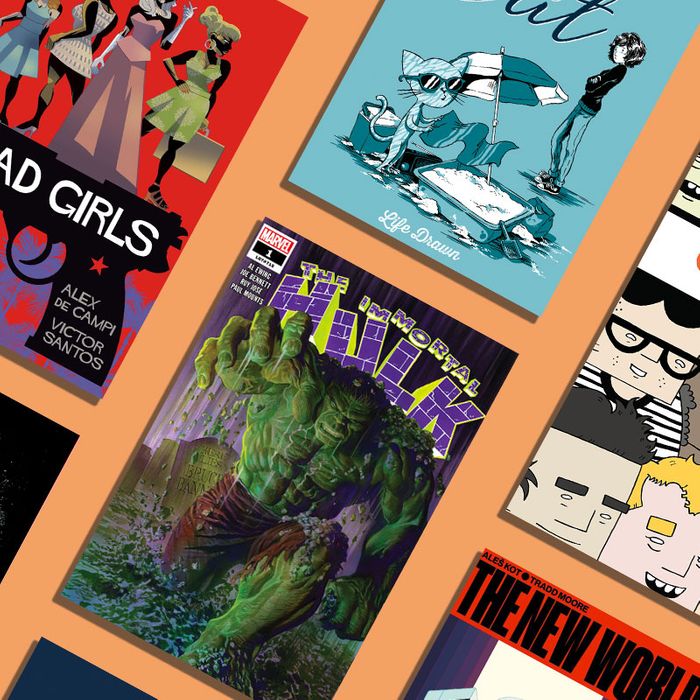 Goodies, goodies, goodies.
Each month, Abraham Riesman offers recommendations of comics media, including book-length graphic novels, comics-format nonfiction, ongoing series, and comics-related items in other forms. With any luck, at least one of them will be a match for you.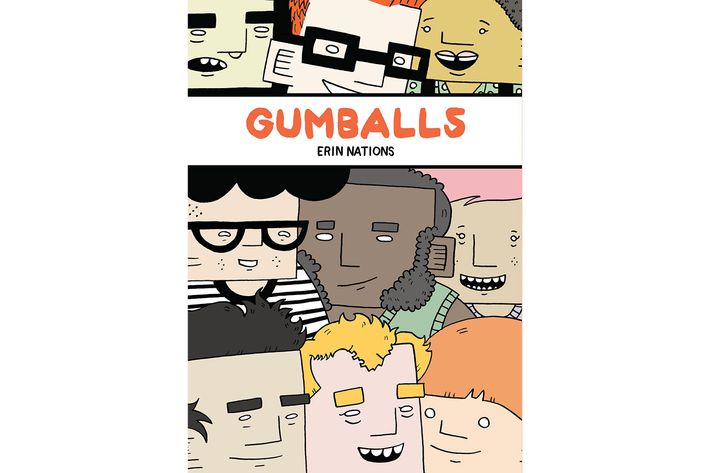 Gumballs by Erin Nations (Top Shelf)
"I'm probably an anomaly in the trans community," Erin Nations's comics avatar says while sitting astride a toilet in a women's bathroom, pondering why he can't bring himself to use the men's. "I imagine most do not feel the same way." It's a heartbreaking moment in a book filled with them. Nations is a tenderly observant man with a boldly angular visual style, and he establishes himself as a unique talent well worth watching with Gumballs, an anthology of his short, unmistakable meditations on shame, aspiration, and self-conception. Told in autobiographical vignettes about the everyday struggle of gender dysphoria and clever fictions about weirdos seeking love and acceptance, the writing is poetic in its bluntness and the inks are as dense as the emotions they capture.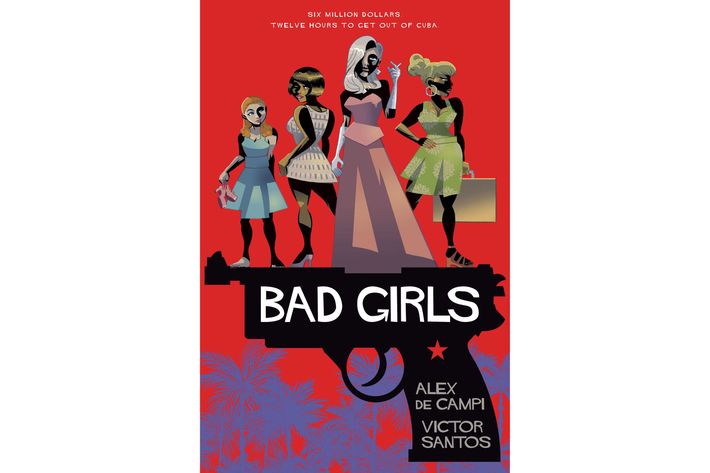 Bad Girls by Alex de Campi and Victor Santos (Gallery 13)
It's New Year's Eve 1958, and Havana is the last place you want to be if you're looking to smoothly ring in 1959. In Bad Girls, writer Alex de Campi and artist Victor Santos present the reader with a viciously stylish chronicle of a very fateful evening in the Caribbean. The revolution may be at the doorstep, but the usual suspects — mobsters, dancers, soldiers, clueless American tourists — are still teeming in the Dionysian nightclub scene, all of them looking out for themselves in a world that's being flipped upside-down and shaken out for the change in its pockets. De Campi and Santos are near-absurdly good at depicting sexiness in word and form, through pulpy dialogue and perfectly chosen songs, and the way the pencil moves across the page.
Shit Is Real by Aisha Franz (Drawn + Quarterly)
We take for granted that visions of tomorrow's technology will be drawn with sleek lines and popping sheen, but Aisha Franz's Shit Is Real tacks in the opposite direction, rendering a Black Mirror–esque world with chalky pencils and deliberately childish figure-work. The result is hypnotically surreal. It provides a backdrop for the achingly relatable tale of Selma, a woman who's just been booted by her boyfriend and is trying to sort out her life while navigating a complicated friendship, recurring nightmares, and an awkward romance born in a pet shop. Sexual frustration and crippling loneliness abound, yet the book is curiously buoyant and consistently engaging.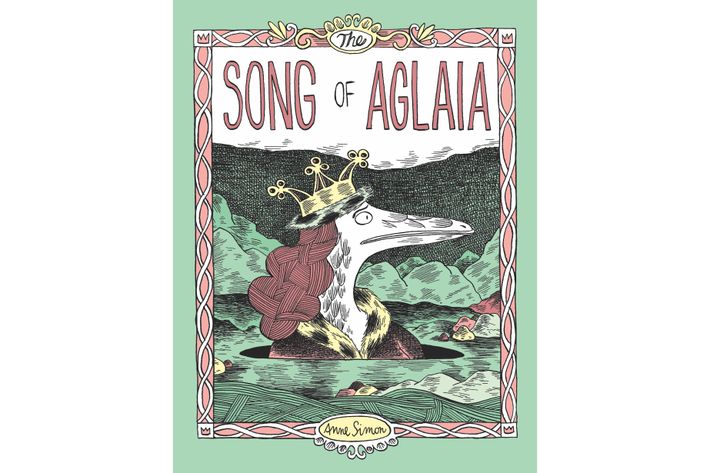 The Song of Aglaia by Anne Simon (Fantagraphics)
Possibly the most unsettling fairy tale you'll read all year, The Song of Aglaia is as feminist as it is iconoclastic. Cartoonist Anne Simon conjures up the title character, a water nymph who chafes in the chains of patriarchal rule, be it from her uncaring father or a sadistic king. However, when she upsets the apple cart and becomes a ruler herself, the narrative moves into unexpected ruminations about how the personal can tragically trump the political. Simon's scritch-scratch textures and kids'-book-gone-awry character designs provide a perfect vehicle for her exploration of the ways lust and — more upsettingly — love destroy our ideals.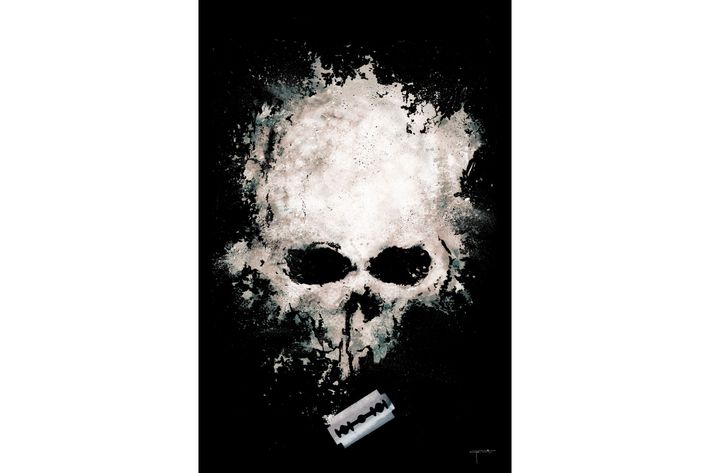 Bone Parish by Cullen Bunn, Jonas Scharf, Alex Guimarães, and Ed Dukeshire (BOOM!)
The cash nexus will make monsters of us all. In Bone Parish, writer Cullen Bunn and artist Jonas Scharf craft a New Orleans in which the dark forces of magic and capitalism find common ground. A new drug is sliding up the city's nose, going by the street name Ash, and its users don't seem to have any idea that it's made out of the ground-up remains of the dearly departed. As Ash's creators and distributors try to milk the demand for all it's worth, a few users are starting to experience some unfortunate side effects, and a meltdown looms. Bunn's writing is juicy, but Scharf's pencils and Alex Guimarães's colors are even juicier, building out a Southern Gothic tapestry that's as sexy as it is unnerving.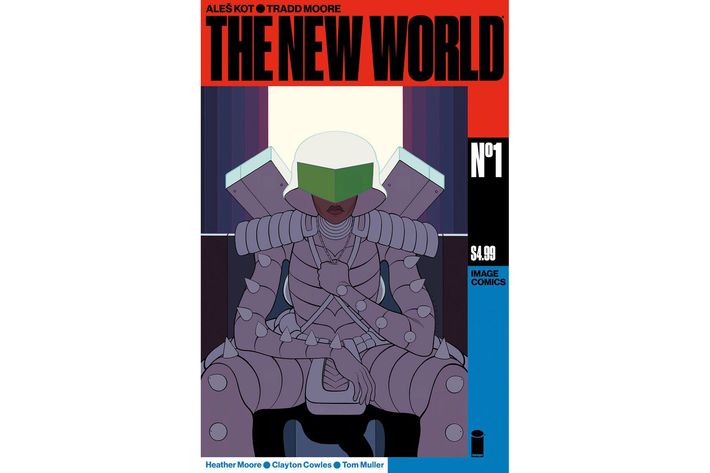 The New World by Aleš Kot, Tradd Moore, Heather Moore, Yesflat, Clayton Cowles, and Tom Muller (Image)
The New World doesn't waste much time: The very first page announces the detonation of nuclear devices over five major U.S. cities, and things only get more tense from there. In the latest work from the erstwhile Secret Avengers team of writer Aleš Kot and artist Tradd Moore, we enter a U.S. that's been divvied up in the wake of the aforementioned nuke attack and a subsequent civil war. In the heavily stratified society of New California, prankster terrorists wield electromagnetic-pulse devices and cops are reality-show stars whose fans vote on whether or not they should murder perps. Kot taps into the blistering dystopian insanity of Escape From New York and Southland Tales, and Moore's surreal, Day-Glo work with color artist Heather Moore is some of the best of either of their careers. As if that weren't enough, there's a scintillating backup story in which the newcomer writer/artist team of Aaron Stewart-Ahn (co-writer of the Nicolas Cage thriller Mandy) and Sunando C introduce the reader to an uncanny hotel room where Kate Bush once spoke to a television. You'll put the comic down and be entirely bored by the real world.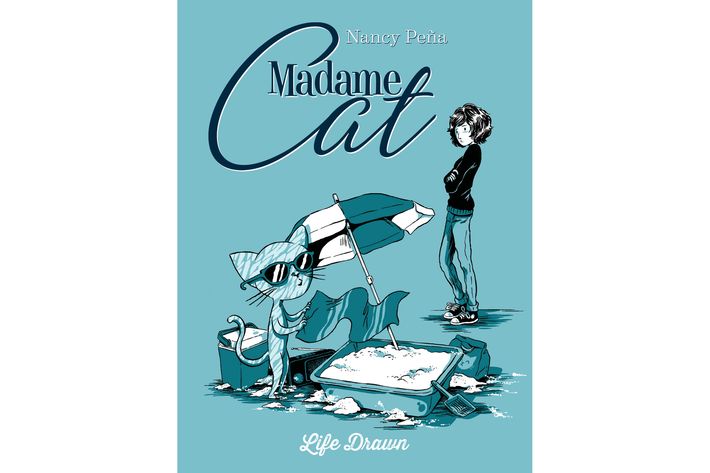 Madame Cat by Nancy Peña, Mark Bence, and Pierre Bisson (Humanoids)
I've said it before in this column and it's only gotten more true over time: I'll always be biased in favor of cat-based comics. And this proud father of two furbabies can tell you that cat lovers everywhere will find much to swoon over in this volume of brief vignettes about kitty ownership from Nancy Peña, a French cartoonist who's a virtual unknown in the American market. Sure, none of it is formally groundbreaking or thematically envelope-pushing, but Peña has a gift for capturing the adorable arrogance of the average domestic shorthair and presenting it with evocative character design and enticingly scribbly linework. In these dark times, we could all use some furry distraction.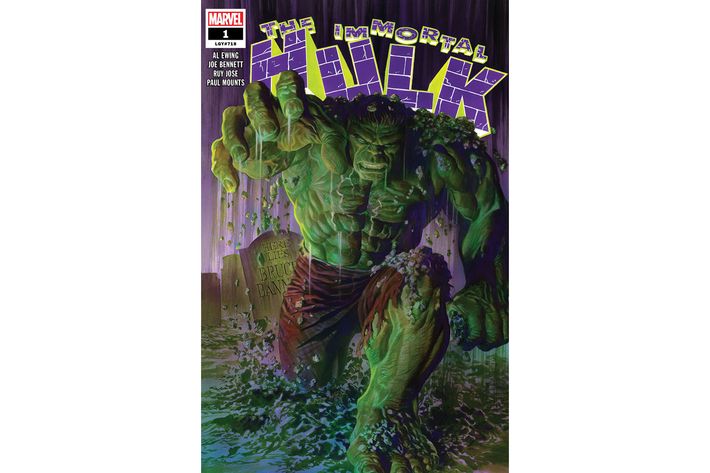 The Immortal Hulk by Al Ewing, Joe Bennett, Ruy José, Paul Mounts, and Cory Petit (Marvel)
It's been a long time since a Hulk story caught the comics world by storm. Time and again, Marvel tries to foist a new iteration of the beefed-out anti-hero upon us, and as entertaining as the adventures can be at times, years have gone by without any of them rising to the top of the monthly crop. But before you say the Hulk concept just doesn't have any juice in it anymore, peruse the pages of The Immortal Hulk, which introduces a version of Bruce Banner who becomes the Not-So-Jolly Green Giant whenever he's killed in his human form. There's only one issue out so far, but its self-contained tale of supernatural vengeance from beyond the morgue felt like the sort of vignette that made EC Comics titles like Tales From the Crypt great. It's hard to pull off a horror-superhero hybrid that doubles as a morality play, but Ewing has done it, and Bennett and company are illustrating it with ominous light and shadow.