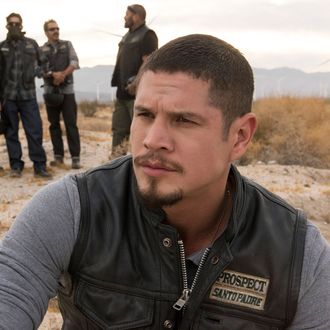 JD Pardo and the cast of
Mayans MC.
Photo: Prashant Gupta/FX
Sons of Anarchy fans who have been eagerly anticipating FX's spinoff Mayans MC have had ample reason to wonder about the two series' overlap. A teaser trailer released earlier this month features Mayans star J.D. Pardo pausing at the roadside grave of Sons' lead Jax Teller (Charlie Hunnam), stoking the tantalizing possibility that other characters and plot lines could be carried over from the long-running show that ended in 2014. At a packed Hall H panel before some 5,000 people on Sunday, the actor Emilio Rivera, who portrayed the leader of a Northern California chapter of the Mayans on five seasons of Sons, appeared on stage alongside the new show's principal cast, director and co-creators indicating that he indeed has made the jump from one series to the other.
But Sons of Anarchy creator/Mayans MC co-creator Kurt Sutter made clear that over the course of Mayans' first season (if not its first three) the plan was to avoid bringing any other Sons into the mix. "The show takes place in real time post-Jax Teller," Sutter said. "I'm very protective of that mythology and how that ended. I want to leave in the minds of the fans how that club continued. Right now there's no intersecting stories that will interfere with that. Sons was a big world. There were a lot of peripheral players and charters. That's the nature of the world; there is a relationship between the Mayans and the Sons. We'll see those points of intersection this season and throughout the series as well. But it's a balance. I want to acknowledge that world and find opportunities to circle that again. And yet, I don't want to abuse it."
The sprawling panel — which also featured co-creator/executive producer Elgin James, director Norberto Barba, and cast members Pardo, Edward James Olmos, Clayton Cardenas, Sarah Bolger, Carla Baratta, Michael Irby, Raoul Max Trujillo, Antonio Jaramillo, Richard Cabral, Frankie Loyal, Danny Pino, Joseph Lucero and Vincent Vargas — kicked off with a tease of the first 13 minutes of the pilot episode. Spoilers to Follow: We are introduced to EZ Reyes (Pardo) a twentysomething Harley-riding "prospect" with ambitions to become a full-fledged member of Mayans MC, a biker gang that has set up shop in a fictional California border town called Santa Padre. In a sweat shop factory manufacturing pastel-colored quinceañera dresses, we see the club members packaging heroin with a special "mananitos" stamp — which translates to "little hands," implicit shout out to President Trump's border wall. The drugs are hidden in the dresses and loaded onto a truck. And it's decided that EZ will accompany a Vegas shipment as added muscle.
Driving across town, however, EZ has a flashback while passing in front of his old high school. Eight years earlier, we are shown, he was enrolled at Stanford University and deeply in love with his high school sweetie Emily (Bolger). EZ visits his father Felipe (Olmos) with whom he discusses poetry and slips a package bearing mysterious coordinates. But when EZ's older brother Angel (Cardenas) arrives, the two become circumspect. "Do you think he knows anything?" Olmos' character asks.
"Don't worry about it pop," Pardo replies.
In the next sequence the Mayans' shipment is dramatically intercepted by another gang that ambush the truck, shooting and injuring several Mayans members before making their escape. EZ observes one of the gunmen's telltale tattoo, setting the stage for some future confrontation.
When the footage concluded, moderator Lynette Rice asked Sutter why it had taken four years for this spinoff show to reach the air. The show creator made oblique reference to his Wales-set historical drama The Bastard Executioner that ran for one season on FX, generating lackluster ratings and dismal reviews before Sutter himself decided to pull the plug. "I thought it would be goo dot make a medieval drama," the show runner said with a laugh. "Even when this show was on the table as the IP moving forward, we knew we didn't want to do it on the heels of Sons. We didn't know what the shelf life of Bastard ex would be. The timing ended up being pretty good. The process of [Mayans] took place about two years later. I enjoyed Bastard. It was crazy going from writing this kind of drama to fucking iambic pentameter. And now here I am with all these dirty motherfuckers!"
On that note, a majority of the cast members as well as Mayans executive producer/co-creator Elgin James admitted they had been "in the life" before working on the show. And Sutter dusted off a remark he first made at the ATX Television Festival last month, reiterating that "this cast has done more jail time than screen time."
"It's not like I began my casting process in County," he continued. "Authentic characters are important to me. I also quite selfishly the energy of those men and women who know that they probably shouldn't be there, that they should probably be someplace much darker. The opportunity to reinvent themselves — you can't bottle that gratitude. You can't ask for anything more powerful than that. It's magic on set."
The showrunner has also previously said he doesn't want Mayans to "feel like a Latino version of Sons of Anarchy." And toward that end, Sutter explained that women comprise a majority of his writers room and the creative team is "primarily Latino." "I'm surrounding myself with people who understand that culture and can tell that story," he said. "It's very different from the white clubs. In the Latino MCs they're very influenced by their heritage and their own culture. In our club that takes place on the border, they're very influenced by the low rider culture of East L.A. That's a big part of the show that I'm very excited about."
But when asked by an audience member during the Q&A if viewers can expect to see women finally sitting astride Harleys on the show, Sutter responded in the negative, knowing full well he was about to voice an opinion unpopular with the hall. "To me, that's about authenticity," Sutter explained. "If it would be part of the sub culture, it would be part of the show. In those outlaw clubs, there are no women members. It doesn't mean we won't see women riding in the show. But not in the club."