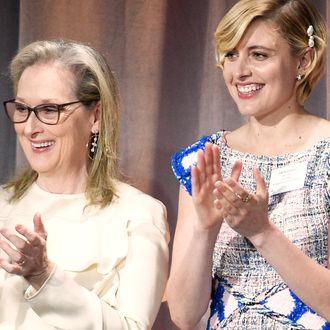 Meryl Streep and Greta Gerwig.
Photo: Kevork Djansezian/Getty Images
Greta Gerwig is directing a new adaptation of Little Women and pretty much everyone in Hollywood is here for it. Saoirse Ronan, Emma Stone, Florence Pugh, and Timothée Chalamet are currently in talks to star, along with none other than Meryl flippin' Streep. And while many assumed the queen of the Oscars and their gifs would be playing the beloved Marmee, Meryl is actually going to be playing Aunt March. Because she's one step ahead of us, always.
The Los Angeles Times first broke the story, and points out that the new film will focus more on the March sisters in their young adult years, which likely means more focus on Aunt March and her very contentious selection of which sister to bring to Europe. But, really, "Meryl Streep gets to play any part she wants to play," as Robin Swicord explained to the Times, as if that wasn't obvious. Swicord wrote the 1994 version of Little Women and is working on the new adaptation as a producer. The film is expected to begin filming this October in Boston and could be in theaters as soon as next fall.