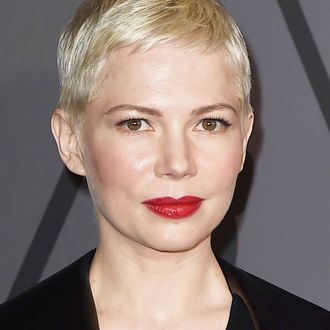 Photo: Kevin Winter/Getty Images
A blessed bit of news has arrived as a cursed week comes to a close. In a profile for Vanity Fair's September issue, Michelle Williams spoke about the Mark Wahlberg pay disparity (in which she was paid eight times less for All the Money in the World reshoots), her role in Venom, and — happy tear emoji! — announced that she is newly married. In a small, secret ceremony in the Adirondacks, Williams wed the singer-songwriter Phil Elverum, of Mount Eerie. She met the musician through mutual friends. She described their relationship to Vanity Fair:
"I never gave up on love," she later tells me, saying that she has spent the 10 years since Ledger's death looking for the kind of "radical acceptance" she felt from him. "I always say to Matilda, 'Your dad loved me before anybody thought I was talented, or pretty, or had nice clothes.' " I can hear her voice crack. She sometimes can't believe that she's found this kind of love, at last. "Obviously I've never once in my life talked about a relationship," she says, "but Phil isn't anyone else. And that's worth something. Ultimately the way he loves me is the way I want to live my life on the whole. I work to be free inside of the moment. I parent to let Matilda feel free to be herself, and I am finally loved by someone who makes me feel free."
Williams says the years after Heath Ledger's death were hard for her and their daughter Matlida, and she spoke to Vanity Fair in detail about the stalking she endured. "To have that kind of attention, in such an aggressive way, around you and your child, when so much of it is coming from what truly is tragedy for a family … it's a kind of violence," she said. Elverum also lost a partner tragically: his wife, illustrator and musician Geneviève Castrée, died from pancreatic cancer, a heartbreak he sang about on A Crow Looked at Me. The couple now live in Brooklyn with their daughters.