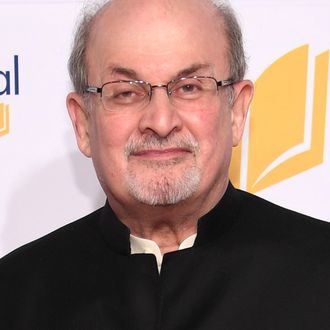 Salman Rushdie.
Photo: Dimitrios Kambouris/Getty Images
Netflix is looking to further expand its international reach with a new series based on the novel Midnight's Children by Salman Rushdie, according to The Hollywood Reporter. The novel has won the Booker prize and the Best of the Booker twice, and Rushdie himself was knighted for his contributions to literature, so yeah, it's a pretty good book.
The story follows the life of Saleem Sinai who is born on the eve of India's independence, and whose life mirrors the national events that affect his country. He also shares telepathic gifts with a thousand other children who were born on the same night. "Midnight's Children is one of the great novels of the world, and its themes are still relevant to the India of today," Erik Barmack, vice president of international originals at Netflix, said in a statement. The series is the latest in Netflix's attempts to expand its subscriber base in India, as in April when it ordered a reality TV series about the cricket team known as the Mumbai Indians.