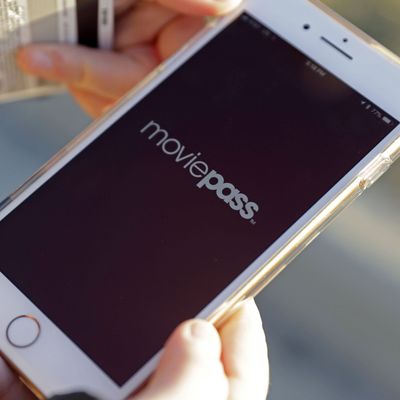 Photo: Darron Cummings/AP/REX/Shutterstock
Is this the way MoviePass ends? Not with a bang. Not with a whimper. But with a black screen and an error message greeting subscribers when they log on to the website: "Error getting available plans. Please refresh browser."
On Monday, the beleaguered subscription service — known as the "Netflix of the movies" — was dealt another significant setback when subscribers were yet again unable to use their cards to purchase movie tickets, marking the fourth time that happened in under a week and sending stock in MoviePass's parent company, Helios and Matheson Analytics, into a seeming death spiral.
Around the movie industry, the predicament prompted grave doubts about MoviePass's ability to continue its operations going forward. Helios and Matheson stock fell 60 percent to $1.20 at the close of trading Monday. If its stock goes under $1 a share, the big-data firm risks a delisting on the NASDAQ, ensuring major difficulties in raising future rounds of financing to keep MoviePass afloat. (MoviePass could not immediately be reached for comment Tuesday.)
Following a service disruption Thursday that caused many frustrated subscribers to miss out on purchasing tickets for the biggest film in release at the time, Mission: Impossible — Fallout, Helios disclosed that it had borrowed $5 million in cash because the company had effectively run out of cash. On Friday MoviePass said in a statement to Vulture: "We have handled the issues on the back-end, and our app is now up-and-running with stability at 100%. We thank our members and our community for their patience and ongoing support, and we appreciate their commitment to our vision as we revolutionize the movie industry."
Earlier this month, the service introduced "Peak Pricing": a $2 surcharge for certain high-demand, major-release movies in their debut weekend in theaters tacked on to MoviePass's $9.95 monthly subscription fee. And according to Business Insider, in an "all-hands meeting" Monday, MoviePass's chief executive Mitch Lowe said tickets for Christopher Robin and The Meg, two big studio films hitting theaters in the next two weeks, would not be available to subscribers.
"As we continue to evolve the service, certain movies may not always be available in every theater on our platform," Lowe said in an open letter on MoviePass's website. "This is no different than other in-home streaming options that often don't carry the latest shows or movies that may be available on other services."
Update, July 31, 2:32 p.m.: According to a company press release issued today, entitled "MoviePass Accelerates Plan for Profitability," the subscription service will increase its monthly fee to $14.95 within the next month. Tickets for first-run films will only be available on a limited basis during their first two weeks in theaters — that is, unless MoviePass has a promotional agreement with the film's distributor.
"Over the past year, we challenged an entrenched industry while maintaining the financially transparent records of a publicly traded company," Ted Farnsworth, CEO of Helios, said in the statement. "We believe that the measures we began rolling out last week will immediately reduce cash burn by 60% and will continue to generate lower funding needs in the future."