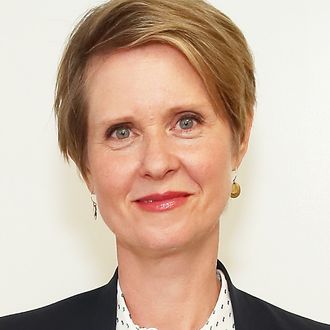 Cynthia Nixon.
Photo: Astrid Stawiarz/Getty Images for PRIDE MEDIA
Following in the footsteps of Sarah Jessica Parker and Kristin Davis, Christopher Noth — better known as Sex and the City's Mr. Big — is backing Cynthia Nixon's run for governor of New York.
The New York Daily News reports that Noth donated $2,500 to Nixon's campaign, according to a financial statement made public on Tuesday, but by no means was Noth the only one with star power on the aforementioned document. Alongside his name was Alec Baldwin, who gave $16,000; Susan Sarandon and Lena Dunham, who each gave $10,000; and Debra Messing, who gave $500. Since announcing her campaign in March, Nixon has raised over $1.6 million from those in Hollywood.
Speaking in reference to Noth and Baldwin's donations, Nixon campaign spokeswoman Lauren Hitt told the Daily News, "We are grateful for both of their support."
Other SATC stars that have endorsed Nixon include David Eigenberg, who played Steve, and Lynn Cohen, who played Magda.