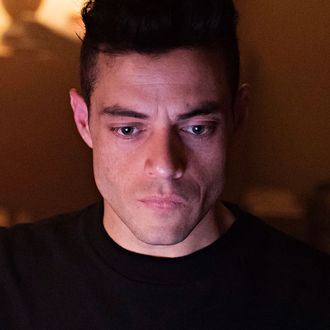 Hello, friend.
Photo: USA Network/Peter Kramer/USA Network
Black hats and white hats alike, rejoice: In a few months, comics publisher Black Mask Studios will put out the first-ever Mr. Robot comics series. It'll center around a prequel story by series creator Sam Esmail, with scripts from series writer Jeff McKibben and some help from writer and Black Mask founder Matteo Pizzolo. Art duties will be handled by Antonio Fuso and colorist Tyler Boss.
Details are scant, but Black Mask tells Vulture that the comic saga "will document the formation of the mysterious group known as fsociety." More will likely be divulged this Thursday at San Diego Comic-Con, when McKibben and Pizzolo preside over a panel called "Mr. Robot: Hacking Comics" at 1 p.m. PT in room 28DE of the San Diego Convention Center. In addition to being a first for the show, the comic is also a big step for Black Mask, an acclaimed indie studio known for its progressive politics that hadn't previously done comics about licensed pop-culture properties. If Black Mask were to buy into any mainstream show, Mr. Robot makes perhaps the most sense, with its anarchic worldview and Establishment-shattering ethos. Hack away, folks.