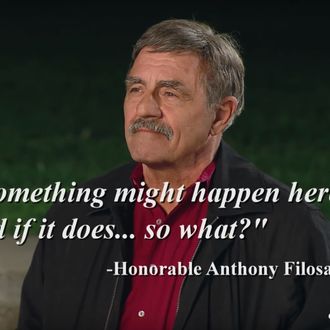 Anthony Filosa on season one of
Nathan for You.
Photo: Comedy Central
Anthony Filosa, the retired California state judge who had the rare distinction of being one of the few guests on Nathan for You to make multiple appearances, has died. Nathan Fielder shared Filosa's obituary today, which reads, in part, that Filosa "was especially proud of his reoccurring role on the TV show Nathan for You," and "was loved for his keen sense of humor, beautiful singing voice and love of movies, as well as his unadulterated delight at sitting in his backyard with a cigar and glass of white wine." Responding to the news, Fielder said, "Judge Anthony Filosa was very special man. Sad to lose a friend and my primary counsel. I'll never know the law right again." Filosa died "unexpectedly" on July 4 at age 78.
Filosa appeared on Nathan for You four times from 2013–2017 to advise Fielder on stunts like the possible fraud charges over his fake movie The Web, his attempt to help save a shipping company money by classifying smoke detectors as musical instruments, and the time he tried to help an electronics store compete with Best Buy's price-matching policy. Arguably, Filosa's best appearance was his first, on the season one "The Claw of Shame" episode, in which he advised Fielder on the magic words to say in order to create a legal certainty that Fielder would become a sex offender if a robot pulled his pants down in front of a group of children before he was able to escape from handcuffs ("Something might happen here, and if it does, so what?").
Legal advice on Nathan for You will certainly never be the same in Filosa's absence.