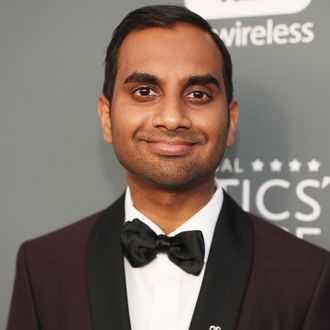 Aziz Ansari.
Photo: Christopher Polk/Getty Images for The Critics' Choice Awards
After the second season of Master of None was released on Netflix, co-creator and star Aziz Ansari told the press he wasn't sure if he would make more seasons of the comedy that earned him an Emmy for writing. A few months later, Ansari was accused of sexual misconduct, and the fate of his show at the network remained even more unclear.
But at a TCA panel Sunday, Netflix Vice-President of Original Series Cindy Holland put the ball in Ansari's court, offering the streaming giant's first public support of him. "We certainly have given some thought to it and would be happy to make another season of Master of None whenever Aziz is ready," Holland said, noting that she has not yet spoken to Ansari about whether he'd like to move forward.
Netflix has also recently dealt with the fallout from sexual assault and harassment allegations against actor Kevin Spacey that led to his firing from House of Cards. During the TCA session, Holland was asked about what Netflix is doing to make the work environment on its sets safer.
"Our first priority is to make sure that every set is safe and happy and healthy for everyone involved," she said. "Certainly, events of the past year have even created more heightened awareness around any potential issues that might happen on set."