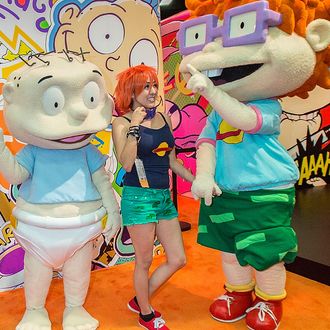 They're alive.
Photo: Daniel Knighton/FilmMagic
Years and years ago the world imagined what a live-action Rugrats movie might be, and it was terrifying. But like any horror from the past, it has nothing on the present. Today, Nickelodeon and Paramount have announced a 26-episode Rugrats series reboot. Fun, right? Well, that's not all. There are also plans for a movie to be released in 2020. At first, that probably sounds like even more good wholesome nostalgic family fun, but that's only because we have yet to mention that the film will star CGI versions of the Rugrats characters.
"Kids who grew up with Tommy Pickles and the Rugrats crew will now be able to share that experience with their own children," Brian Robbins, president of Paramount Players, said in a statement to Variety. Of course, when we knew Tommy Pickles he was a delightful lil 2D fella, not what we can maybe assume might be a slightly nicer looking Gollum-from-Lord-of-the-Rings in an oversized diaper. But hey, maybe we'll get another Mýa single out of it.